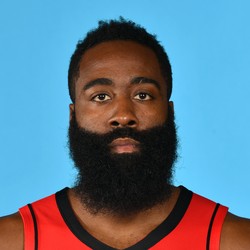 James Harden
G - HOU
Height: 6' 5"Weight: 220 lbsAge: 30College: Arizona StateDrafted: #3 (1st Rd.)
Next Game
HOU @ DAL
Fri, 7/31 9:00pm
James Harden not on team flight to Orlando, will join team in 'near future'
Shams Charania is reporting on Twitter that James Harden and Russell Westbrook did not travel with the Rockets to Orlando, but are expected to join the team in the 'near future'.
Fantasy Impact
It's unclear at the moment as to why Houston's dynamic superstars were absent from the team as they traveled to Orlando, but it is a story worth monitoring. As of now, both players are expected to re-join the team in Orlando sometime in the 'near future'. Check back for more updates as this story unfolds.
James Harden preparing as if 'the playoffs start tomorrow'
In an exclusive article with Kelly Iko of The Athletic, James Harden's trainer Christian Polk stated, "he [Harden] wanted everything amped up. We kind of approached everything as if the league was about to start - if he had to go play a playoff game tomorrow."
Fantasy Impact
Harden typically returns to Arizona in the off-season but instead of going to Scottsdale, he opted to train in Phoenix. To ramp up his training activities from the norm, Harden solicited the help of Justin Allen, an athletic trainer from the Houston area and younger brother of former NFL TE, Dwayne Allen. According to Polk, Harden's regimen included high-intensity workouts two or three times a day that focused on specific drills catered to his style of play - primarily yoga, plyometrics, and body control exercises. With the NBA nearing a return, the perennial all-star will be more than ready to compete for an NBA championship this summer.
James Harden buries Timberwolves with 37 points
James Harden supplied 37 points (11-19 FG, 5-10 3PT, 10-14 FT), seven assists, four rebounds, two steals and a block across 36 minutes during the Rockets' 117-111 victory over the Timberwolves on Tuesday.
Fantasy Impact
Harden was terrific in this one, reaching 37 points on only 19 shots. Fantasy owners have to be encouraged with his showing on Tuesday after a string of bad performances left many scratching their heads at the All-Stars play as of late. In the Rockets high-volume offensive attack, Harden will aim to be more efficient going forward as he is certain to handle as many shots as he can take. Next up for the Rockets is a prime time battle against the top-seed Lakers on the road.
James Harden continues to struggle in loss to Orlando
James Harden went for 23 points (6-19 FG, 3-10 3PT, 8-10 FT), seven rebounds, six assists and three steals across 32 minutes during the Rockets 106-126 blowout loss to the Magic on Sunday.
Fantasy Impact
Harden was abysmal once again on Sunday as the Rockets have now lost four straight games. The Beard hasn't looked like his usual self over the past week and a half and although it's too early to panic, it is something of concern. Over the last five games, Harden has averaged only 25 points on a horrific 31.4 percent from the field. The eight-time All-Star will look to bounce back on Tuesday as the Rockets square off against the Timberwolves.
James Harden logs triple-double in Saturday's loss to Charlotte
James Harden scored a game-high 30 points (8-22 FG, 2-11 3PT, 12-14 FT), 14 assists, 10 rebounds, 10 turnovers and two steals across 45 minutes in Saturday's 108-98 loss to the Hornets.
Fantasy Impact
Harden logged his fourth triple-double of the year, but turned the ball over a whopping 10 times in Saturday's loss. It was the third time in his career that Harden posted a triple-double while turning the ball over 10 or more times. Despite the turnovers, Harden is a top-3 player in fantasy, averaging 34.5 points, 6.4 rebounds, 7.4 assists, 1.7 steals and 4.5 triples across 59 games this year. The Rockets next scheduled game is Sunday, home against the Magic.