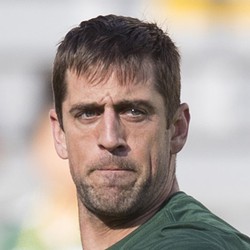 Aaron Rodgers
QB - GB
Height: 6' 2"Weight: 225 lbsAge: 36College: CaliforniaDrafted: #24 (1st Rd. by Green Bay)
2020 Outlook
Strength of Schedule
QB Rank: 3rd (easy)
Aaron Rodgers' desire to remain a Packer for life 'may not be a reality'
Packers QB Aaron Rodgers spoke to the media via conference call on Friday for the first time since Green Bay drafted QB Jordan Love and told them that his desire to start and finish his career with the same team "may not be a reality at this point."
Fantasy Impact
Rodgers sounded like himself during a conference call with the media, the first time he's spoken publicly since the Packers interestingly drafted Love with their first-round pick. He said he'd treat Love just like all the other backup quarterbacks in Green Bay, but acknowledged openly that it's a bit different now that he's been on record stating he that he feels great and wants to play into his 40s. At 36, Rodgers believes he's got another at least four to five years in the tank, and Love likely won't sit on the bench for the entirety of his rookie deal, so something's got to give. He ended the conference call by answering one final question about not being thrilled with the Packers decision to select a QB in the first round. His response, "there are some new factors that are out of my control. And so my sincere desire to start and finish with the same organization, just as it has with many other players over the years, may not be a reality at this point." Rodgers may very well play the next couple of seasons with a huge chip on his shoulder, which could spark some increased fantasy value perhaps. He's currently ranked #12 in FantasyPros consensus QB rankings.
Brian Gutekunst, not Matt LaFleur, made push for Jordan Love
A report from ESPN is saying that Packers' general manager, Brian Gutekunst, made the push for first-round quarterback, not head coach Matt LaFleur.
Fantasy Impact
There was a lot of head-scratching when the Packers drafted a quarterback in the first round of this years' draft, ignoring glaring weaknesses at wide receiver that could put them in win-now mode during Aaron Rodgers' twilight. Even though Gutekunst is a newer GM, he studied under Ted Thompson who has been with the Packers organization since 1992 and famously drafted Aaron Rodgers in the first round when Hall of Famer Brett Favre was only 35-years-old. It looks like Gutekunst took a page from Thompson's playbook when drafting Love this year. The Packers have historically looked years ahead when building their roster, preferring to draft and develop players rather than searching in free agency and trade for short-term solutions. There will certainly be a lot of speculation about if and when Love will dethrone Rodgers as the Packers' franchise quarterback, but his job should be safe for awhile. Per LaFleur, "Aaron is a pro, and he's the leader of our football team, and I anticipate that for a really long time."
Aaron Rodgers: Brett Favre believes he won't finish his career in Green Bay
When asked about Aaron Rodgers' future with the Packers, Brett Favre told Rich Eisen that, "I think Aaron will finish somewhere else. That's my gut."
Fantasy Impact
While other NFL organizations added firepower to their respective offenses through free agency and the Draft, the Green Bay Packers stood tall and decided not to address what many people see as glaring needs. Couple that with the fact that the Packers went with QB Jordan Love in the first round of the Draft, and Favre believes Rodgers has one foot out the door in Green Bay. According to Favre, Rodgers was "surprised they (Green Bay) went that direction (with the Jordan Love pick)." Favre was 35 years old when the Packers drafted Rodgers in the first round of the 2005 Draft and now Rodgers is 36 years old when the Packers seem to be doing the exact same by drafting his future replacement. We'll see how Rodgers ultimately performs this year, maybe he'll silence all the critics by putting together a career year with the likes of WRs Davante Adams, Marquez Valdes-Scantling, and Allen Lazard. But even so, the relationship Rodgers has with head coach Matt LaFleur seems to already be souring.
Aaron Rodgers: Matt LaFleur 'has simply had enough' of his act?
Bob McGinn of The Athletic writes that he believes Matt LaFleur has "simply had enough of" Aaron Rodgers' act.
Fantasy Impact
McGinn adds that LaFleur wants to "change the narrative" surrounding the team's quarterback situation. This is noteworthy because McGinn has covered the Packers for decades and is plugged into the organization. It was obviously a curious decision by Green Bay to trade up for Utah State quarterback Jordan Love last Thursday night, but perhaps there is more animosity going on behind the scenes than we even thought. It remains unlikely that Rodgers will be leaving the Packers this season, but his time with the franchise might end sooner than most fans would probably like it to.
Aaron Rodgers: Matt LaFleur says clock isn't ticking
Packers coach Matt LaFleur says he has spoken with Aaron Rodgers since the team selected quarterback Jordan Love in the first round of this weekend's draft, and insists he wants Rodgers to remain the team's starter for as long as possible.
Fantasy Impact
"Aaron is a pro, and he's the leader of our football team, and I anticipate that for a really long time," LaFleur said Saturday after the draft concluded. "I have so much respect for him not only as a player but the person, and some of the stuff that nobody sees. So I can't tell you how much I like working with him". The Packers are saying all the right things but their actions speak volumes. Rodgers asked for more weapons coming out of this weekend but Green Bay used their first three picks on a quarterback, a two-down running back, and a tight end that the team plans to utilize as a fullback. The Packers are apparently transitioning to more of a run-focused offense in 2020. It will likely be a season filled with drama in Green Bay.
Most Accurate Experts
for Aaron Rodgers