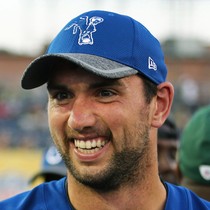 | QB | Matchup | Alerts |
| --- | --- | --- |
| #4 | vs. SD | Questionable: Shoulder |
Note from FantasyPros Staff
Mon, Sep 19th 11:44pm EDT
Luck looks to bounce back against the Chargers in Week 3. He has produced the fourth highest (0.48) fantasy points per drop back through two games. We view Luck as an elite QB1 in Week 3.
Andrew Luck is questionable to play Sunday against the Chargers. While he's expected to suit up, he's remained on the game status injury report for the first time this season.
Fantasy Impact
The Colts have downplayed this, but it is at least worth noting that Luck has remained on the injury report entering the game. He continues to get hit, and with the question marks surrounding his shoulder there seems to be more risk than in most situations surrounding Luck.
Category: Injury Updates
---
Athlon Sports, Sun, Sep 25th 10:30am EDT
Fantasy owners were lucky to escape Week 2 with their starting two running backs still healthy. However, unlike the wide receivers, which are banged up and may or may not play, most of the injured running backs have already been ruled out. Read the full story on Athlon Sports
---
WalterFootball, Wed, Sep 21st 7:07pm EDT
Luck at home in the dome is always a nice spot. He put up huge numbers on Detroit at home and then had to go to Denver, which went as well as you would expect. Now he's at home against the Chargers who have given up 346 passing yards and two passing touchdowns per game to Alex Smith and Blake Bortles.
---
Fantasy Football Maniax, Mon, Sep 19th 4:13pm EDT
The Chargers have given up a ton of fantasy points to quarterbacks the first two weeks, Luck should be a great play this week at home.
---
FanSided, Thu, Sep 1st 7:03pm EDT
Every year the fantasy busts hit us like a ton of bricks. With value in mind, these are the biggest busts at each major position. It's Fantasy Football 2016. Dan Salem and Todd Salem debate in today's NFL Sports Debate. Two brothers from New York yell, scream, and debate sports. &a...
---
RotoBaller, Wed, Aug 31st 10:00am EDT
Everyone has been there at some point in a fantasy draft. You take the plunge and draft a quarterback a little early, thinking you've locked up the position for the entire season. Then you come to find out that you got the 2014 version of Cam Newton or 2015 Andrew Luck. In this article we are
---
Yahoo! Sports, Sun, Aug 21st 1:39am EDT
It's all smiles for Andrew Luck, the No. 1-priced quarterback (AP)It would be lovely to have a snappy tier name for my quarterback rankings and groupings, but all the good tier puns are already taken. So we'll keep shuffling about. You'll disagree with many of these prices and ranks because that's why we have a game. Try to stay grounded and rational with your players, it&r...
---
RotoBaller, Fri, Aug 12th 12:10pm EDT
What's up RotoBallers. Welcome to part three of our 2016 fantasy football tiered quarterback rankings for dynasty leagues. You can read part two here. Fantasy football covers multiple different types of leagues now. There are Standard Leagues, PPR Leagues, Half-PPR Leagues, Rookie Leagues, and arguably the most popular, Daily Fantasy Football. In this article, I, Justin
---
Fantasy Games
Get 5 free NFL entries
with your first deposit
| | |
| --- | --- |
| | Join a League for Free |
| | |
| --- | --- |
| | Serious Fantasy Football |