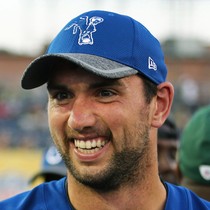 | Overall | QB | ADP | Auction Value | Alerts |
| --- | --- | --- | --- | --- |
| #46 | #4 | QB #4 | - | |
Note from FantasyPros Staff
Last season, no player did more to single-handedly derail so many fantasy championship dreams. The idea that shoulder issues can resurface and that he has proven he will play through it without saying a word, should concern you enough to avoid him altogether. Remember, fantasy leagues are never won in the first three rounds, but they certainly can be lost.
Indianapolis Colts' QB Andrew Luck had a solid but not spectacular game against the Philadelphia Eagles. Luck played the entire first-half in what is known as the "dress rehearsal" preseason game, finishing the game 13-for-18 for 134 yards. Luck targeted starting WRs Donte Moncrief and T.Y. Hilton five times each.
Fantasy Impact: So far this preseason, Luck has played well going 21-for-26 for 205 yards in about three quarters worth of action. Luck looks to have recovered from the numerous injuries he was dealing with last year and appears to be playing more like the Luck from 2014 rather than 2015. Luck is looking to bounce back in 2016 after a disastrous 2015 season. Look for Luck to be one of the first five QBs off the board. If Luck can stay healthy, I think it's very likely that he returns to 2014 form. Luck has the talent and the weapons to be the highest scoring player in fantasy football this year.
Category: Game Recaps
---
RotoBaller
| Aug 31st
Everyone has been there at some point in a fantasy draft. You take the plunge and draft a quarterback a little early, thinking you've locked up the position for the entire season. Then you come to find out that you got the 2014 version of Cam Newton or 2015 Andrew Luck. In this article we are
Fantasy Football Maniax
| Aug 28th
I keep watching this team and I keep thinking about what a mess their offensive line is and how the Colts front office is wasting a generational player's career. I'm selling everything about Indianapolis, this looks like the same disaster they had last season and Luck is not going to survive the season playing behind that line.
WalterFootball
| Aug 26th
Luck was not great by anyone's standards before he was spleened, but he still put up decent fantasy numbers while sucking. The Colts are built for him to throw the ball, and he went and threw the ball 42 times per game in 2015, which ties Drew Brees for the most per game. Of course, the Colts would rather not need to throw it that often, but their defense isn't going to be Seattle-like by this coming season and they'll have to compensate on offense. After two years completing over 60 percent of his passes, Luck dropped to a pitiful 55 percent in 2015, and I don't see how a healthy Luck doesn't get back over 60 percent in 2016. Add in a T.Y. Hilton and Donte Moncrief, and there is no reason Luck doesn't put up big numbers this coming year
Fantasy Football Empire
| Aug 21st
Andrew Luck is the highest risk/reward QB in 2016 fantasy football league drafts. He lacks consistency at QB play and is an injury risk in the way that he takes on defenders. It also does not help that Indianapolis continues to have no run game and a weak offensive line. He will still be one of the top 5 QBs drafted and could be the steal of the draft. I don't see him lasting past round 4. Andrew Luck recently signed a new five-year contract extension which will have him in Indianapolis until the 2021 season. Luck was hit 375 times over the past 3 seasons which is the most over the past 3 years.
Yahoo! Sports
| Aug 21st
It's all smiles for Andrew Luck, the No. 1-priced quarterback (AP)It would be lovely to have a snappy tier name for my quarterback rankings and groupings, but all the good tier puns are already taken. So we'll keep shuffling about. You'll disagree with many of these prices and ranks because that's why we have a game. Try to stay grounded and rational with your players, it&r...
Bruno Boys
| Aug 18th
Luck should rebound and prove to everyone that 2015 was nothing more than an injury filled fluke. Finished with 15 TD passes over seven games. Needs to cut down on turnovers.
RotoBaller
| Aug 12th
What's up RotoBallers. Welcome to part three of our 2016 fantasy football tiered quarterback rankings for dynasty leagues. You can read part two here. Fantasy football covers multiple different types of leagues now. There are Standard Leagues, PPR Leagues, Half-PPR Leagues, Rookie Leagues, and arguably the most popular, Daily Fantasy Football. In this article, I, Justin
The NY Times
| Aug 9th
Most expect a big bounceback from last season's injury-plagued campaign.
Yahoo! Sports
| Jul 21st
As bad as his on-field performance looked in '15, he still finished top 6 among QBs in FAN PPG (min. 7 games) - a little improvement on the Indy O-line will go a long ways for Luck
Coach Esser
| Jul 17th
A big bounce back from Andrew Luck is in the cards. I really like his WR group and think the injury may force Luck to be more efficient.
Breaking Football
| Jul 5th
Luck's 2015 was a nightmare by all accounts, but he still has the talent and supporting cast to be a fantasy fiend. I'm betting on that, plus his history before last season.
Rotoworld
| Jul 5th
Andrew Luck signed the largest contract in NFL history last week. Is he worth it? Jesse Pantuosco discusses in this week's Bump and Run.
Fantasy Games
Get 5 free NFL entries
with your first deposit
| | |
| --- | --- |
| | Join a League for Free |
| | |
| --- | --- |
| | Serious Fantasy Football |