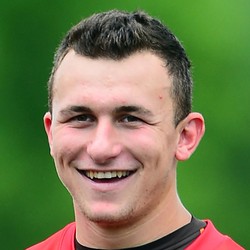 Johnny Manziel
QB - FA
Height: 6' Weight: 210 lbsAge: 27College: Texas A&MDrafted: #22 (1st Rd. by Cleveland)
Johnny Manziel says football career is 'in the past, probably'
When asked recently about his football playing career, former NFL QB Johnny Manziel said, "in the past, probably, is the way I'd characterize it. I've finally got to a point where I'm trying to achieve happiness in life, not happiness on the football field."
Fantasy Impact
Manziel said he also realizes a lot of people probably want to see him give the NFL another shot, but at this point, he sees himself in a better place mentally. "I can honestly say I'm happy and I'm doing the right things to try and put a smile on my face every day, and that means more to me than going out and grinding on a football field, said Manziel." A former 2014 1st-round pick of the Cleveland Browns, Manziel only played two seasons in the NFL prior to his release. He then gave the CFL and AAF a shot in 2018 and 2019 but the AAF folded last year and Manziel hasn't played football since. Sounds like his playing career is all but over, but the 27-year old doesn't seem to mind much at all.
Johnny Manziel joins the CFL
Former Cleveland Browns quarterback Johnny Manziel will try to resurrect his professional football playing career by signing a two-year contract with the Canadian Football League's Hamilton Tiger-Cats.
Fantasy Impact
Manziel won the Heisman Trophy in 2012 and was a first-round pick by the Cleveland Browns in 2014, where he produced eight touchdowns during a 14-game run between 2014-2015 before flaming out. Manziel drew some interest this spring when he held workouts but was ultimately unsigned. If he can stay clean and showcase his talents north of the border, Manziel could draw NFL interest, but he'd do well to even earn an opportunity to compete for a practice squad, or emergency quarterback role.
Johnny Manziel receives suspension from the NFL
Former Cleveland Browns QB Johnny Manziel was given a four-game suspension from the NFL on Thursday for violating the league's substance-abuse policy.
Fantasy Impact
Johnny Manziel gets hit with yet another setback in his career as the NFL suspended the troubled quarterback for four games. Reports suggest that if Manziel signs with a team that he is subject to the personal conduct policy stemming from his legal case as well per Ian Rapoport.
Johnny Manziel appears ready to begin the sobriety process on Friday
Former Cleveland Browns QB Johnny Manziel told TMZ Sports via ESPN that he intends to begin the process to get sober on Friday, July 1. Undisclosed sources compiled that Manziel appears to be "serious" about cleaning up his life this time around.
Fantasy Impact
Johnny Manziel appears to be ready to take the first steps in hs sobriety on Friday. Manziel has been on a downward spiral since entering the league and if he doesn't make a drastic change, his NFL career and life may be in jeopardy.
Johnny Manziel's sobriety in doubt
Former Cleveland Browns QB Johnny Manziel appears to garner the media's attention again for the wrong reasons. In an accidental text sent to the Associated Press, Maziel's attorney suggested that the quarterback made illicit purchases of drug paraphernalia and questions his ability to remain sober.
Fantasy Impact
In yet another turn in the Johnny Maziel saga, the quarterback's attorney leaked a text to the Associated Press that questioned his sobriety. Manziel's legal troubles and inability to remain sober will likely keep him out of football for the unforeseeable future.
Most Accurate Experts
for Quarterbacks