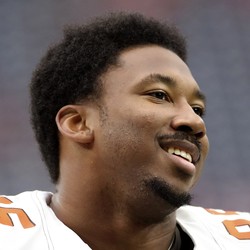 Myles Garrett
DE - CLE
Height: 6' 4"Weight: 272 lbsAge: 23College: Texas A&MDrafted: #1 (1st Rd. by Cleveland)
Myles Garrett gets sack in season finale
Browns defensive end Myles Garrett recorded one sack in Sunday's 26-24 loss to the Ravens.
Fantasy Impact
Garrett finishes 2018 with 44 tackles and 13.5 sacks in 16 games this season. He's one of the best young pass rushers in the game and should be a highly sought after DE in IDP leagues for the 2019 season.
Myles Garrett quiet on stat sheet in Week 15 victory
Browns defensive end Myles Garrett recorded just one solo tackle in Saturday night's win over the Broncos.
Fantasy Impact
Garrett registered two hits on Broncos quarterback Case Keenum but was unable to get a sack. It was his first game without a sack since Week 10. A rematch with the Bengals is up next in Week 16.
Myles Garrett sacks Deshaun Watson Week 13
Browns defensive end Myles Garrett recorded three tackles (two solo) and 1.5 sacks in Sunday's 29-13 loss to the Texans.
Fantasy Impact
Garrett leads the team with 11.5 sacks on the season to go with 32 tackles in 12 games. He will continue to be a reliable DE1 when the Browns host Carolina in Week 14.
Myles Garrett sets sights on DPOY award
Browns defensive end Myles Garrett spoke highly of Rams star defensive lineman Aaron Donald this week, acknowledging he is the clear leader in the race for defensive player of the year. "He's the leader,'' Garrett said Friday, via Mary Kay Cabot on Cleveland.com. "I watched some of the game [between the Rams and Chiefs]. I didn't watch all of it. I watched his plays, though, that he made. I mean, he has a good team. He has a good D-line, and they work well together. I know we have a good D-line as well. We just have to pick it up and make more plays." While discussing Donald, Garrett said he has his eyes on his first Pro Bowl appearance but admitted he'd like to chase down Donald for DPOY. "I'd like to make it,'' Garrett said when asked about the Pro Bowl. "And, hell, I'd like to make a case for DPOY, but there's six games left, so anything can happen.''
Fantasy Impact
Donald leads the NFL with 14.5 sacks. Garrett is tied for ninth with nine so he has a ways to go still. "I know what the leader has, and that's about it,'' Garrett said. "Everybody else in between that's just like fodder. They're ahead of me, but I'm going for the top." While he doesn't seem destined to beat Donald this year, last year's first overall pick certainly has a bright future as one of the best pass-rushers in the NFL.
Myles Garrett plays season-low snaps Week 10
Browns defensive end Myles Garrett recorded just one tackle in Sunday's 28-16 win over the Falcons. He did so while playing a season-low 50 snaps (67-percent).
Fantasy Impact
Interim head coach Gregg Williams said the decrease in playing time was by design in an effort to keep Garrett, as well as Emmanuel Ogbah and Larry Ogunjobi, fresh. "To be quite truthful, we've been trying to decrease some of the time,'' Williams said. "This is a way to try to have a few more restful snaps of getting those guys at the end of the half and at the end of the game to be hunting in the two-minute drills." While it was not the case in this one, a well-rested Garrett could create more sack production moving forward. He will get a shot to add to his nine sacks following the Week 11 bye against the Bengals.