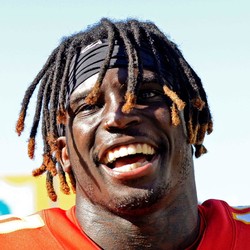 Tyreek Hill
WR - KC -
Suspended
Height: 5' 10"Weight: 185 lbsAge: 25College: West AlabamaDrafted: #165 (5th Rd. by Kansas City)
2019 Outlook
Strength of Schedule
WR Rank: 32nd (hard)
Tyreek Hill has thorough interview with NFL
Tyreek Hill and his legal team met with NFL officials for eight hours on Wednesday.
Fantasy Impact
According to Adam Schefter, the interview was "very thorough." A ruling on possible discipline for Hill in relation to domestic abuse allegations is expected very soon, and the Chiefs open training camp on July 26 with Hill not yet reinstated to participate in team activities.
Tyreek Hill to meet with NFL officials Wednesday
Tyreek Hill will reportedly meet with NFL officials in Kansas City on Wednesday regarding domestic abuse allegations.
Fantasy Impact
Hill is currently banned from attending any offseason activities with the Chiefs after domestic abuse allegations were leveled on him in relation to his three-year old son's broken arm. A subsequent audio recording of Hill and his fiancée offered some disturbing commentary, though Hill is highly unlikely to face any legal actions after investigators were unable to come up with any concrete evidence directly linking Hill to his son's injury. Hill's meeting with NFL officials likely signals a swift disciplinary ruling on the part of the league. Players can face disciplinary action for violating the NFL's Personal Conduct Policy, even if no criminal charges are filed. According to the CBA, a violation involving domestic violence carries a six-game baseline for suspension, though aggravating circumstances such as violence against a child or prior instances of similar behavior play a part in the final ruling.
Tyreek Hill will not face criminal charges
Tyreek Hill will not face criminal charges in the case of his son's broken arm.
Fantasy Impact
Hill was suspended from all Chiefs' activities after disturbing audio of he and his fiancée discussing his son's injury surfaced nearly six weeks ago. The case, which was reportedly reopened in light of that evidence, is now officially closed. Although Hill may have been absolved of any legal issues, the NFL is highly likely to conduct its own investigation with the possibility of a suspension. Hill has not yet been reinstated by the Chiefs to participate in team activities, and his situation is still very much fluid.
Tyreek Hill likely headed for exempt list
Chiefs WR Tyreek Hill will likely be placed on the commissioner's exempt list this week, per a report from Dan Graziano.
Fantasy Impact
Hill was suspended from Chiefs' team activities last week after a disturbing audio clip of he and his fiancée was released in which Hill made some threatening remarks and described disciplinary measures he used on his son. An internal investigation is being conducted by the Chiefs organization while Hill is being investigated by local authorities in regard to his son's broken arm and Hill's possible involvement in that crime. Rumors have circulated that Hill may be cut by the Chiefs, but it appears the team will do its due diligence before making any decisions. The commissioner's exempt list prohibits Hill from participating in any NFL activities and essentially acts as "leave without pay." Kansas City brass has shown its firm stance on domestic violence recently, releasing RB Kareem Hunt almost immediately after video of him assaulting a woman was released last November.
Chiefs suspend Tyreek Hill from team activities
The Kansas City Chiefs have suspended Tyreek Hill from participating in team activities while they further investigate his recent off-field family issues.
Fantasy Impact
Despite not being charged by the district attorney, an audio clip that is now public has landed Hill in even more hot water as questions about his character will keep him from the team. Not only is his time with the Chiefs now in question, but his career in the NFL as a whole.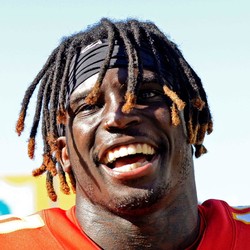 Most Accurate Experts
for Tyreek Hill