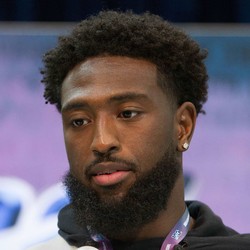 Parris Campbell
WR - IND
Height: 6' Weight: 205 lbsAge: 23College: Ohio State
2020 Outlook
Strength of Schedule
WR Rank: 21st
Campbell outproduced Terry McLaurin in college while being two years younger. He was also a higher draft selection. He's an interesting late round pick at WR.
Campbell should be a prime sleeper this season, after missing all but seven games in his rookie season with injury. Philip Rivers likes to push the ball deep, and Campbell's elite speed should mesh with Rivers' skill set well. You can't rely on any Colts wide receiver outside of T.Y. Hilton as a fantasy starter, but Campbell has tons of upside and can play out of the slot, and should be drafted and stashed on fantasy benches everywhere.
Only had 3 games where he was on the field at least 49% of the time. Had 18 targets in those 3 games. Abdominal injury, Fractured Hand, Fractured Foot. Check, Check, Check. 97th+ percentile 40 yard dash, Speed, and Burst Score? Check, Check, Check. 6', 200lbs. 1000 yard season while sharing the field with Terry McLaurin at Ohio St. Now, his competition. Pittman hasn't been a pillar of health himself: broken collarbone (January 2016), hand surgery (January 2017), high left ankle sprain (August 2017), broken nose (August 2017) and shoulder surgery (January 2019), and he fills a completely different roll than Campbell. Pittman is not a YAC threat like Campbell. Hilton also hasn't played 16 games since 2017. Counting on a healthy season at 31 is just as risky as any of the IND options. I'm ready for a Chark like bounce back in year 2, after everyone has moved on to the next shiny toy in Indy, Pittman.
He didn't make a big impact during his rookie season, but now that Chester Rogers is gone, Campbell should have the starting slot role all to himself. Not only will he be a starter this year, but he'll also get a quarterback upgrade with Philip Rivers in town. Campbell has big-play upside, and at this cost, you only need a few of them.
The breakout is coming. Be patient.
Promise is there to be a notable playmaker, but could also settle into WR3 role for Indy
Most Accurate Experts
for Parris Campbell