Bold Predictions for Week 1 (Fantasy Football)
We've finally made it. After the NFL unnecessarily extended the preseason by an extra month, opening week has arrived. (What's that? It was the same length as it always was? It just felt like forever? Agree to disagree.)
But now it's time to get real, and more importantly for me, it's time for my favorite article – bold predictions. I say it every year, but in my humble opinion, this is the best article a fantasy analyst can write. Legitimately, you can make any utterly absurd prediction you want, so long as you can find even the slightest thread of support for it in the numbers. If you're wrong, then it doesn't really matter because, hey, what do you want from me, they're supposed to be bold, man. But if you get a couple of them right, then you walk around like this for a week.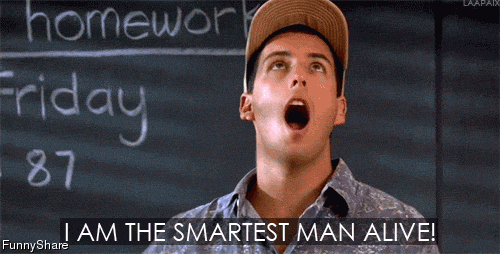 So let's get this started. Here are your bold predictions for Week 1.
Get free start/sit and waiver wire advice for your fantasy team >>
Carson Palmer is a top-five quarterback
Perhaps this is wishful thinking since I somehow wound up with Palmer on more than 100 percent of my fantasy rosters (no, that's not possible – I'm just making sure you're paying attention). But I think Palmer is in for a big day here. In 2016, the Lions allowed 33 passing touchdowns, second-most in the NFL, and a 72.7 percent completion percentage, tops in the league. They also allowed the third-most fantasy points to opposing quarterbacks. Palmer reportedly overdid it in the preseason last year, leading him to battle a tired arm for most of the season. Healthy entering the year and with a (currently) healthy receiving corps, Palmer has the opportunity for a huge day playing indoors in Detroit.
Wendell Smallwood is a top-20 running back
Smallwood is 53rd in the expert consensus rankings, which is obviously fair. The Eagles have given no real indication as to how their backfield will break down between Smallwood and LeGarrette Blount. But if you saw Mike Gillislee look sharp on Thursday night, you know that Blount's miraculous 2016 was due almost entirely to playing for the Patriots, and had little to do with his skill as a running back. The Redskins struggled against the run in 2016 (20 total touchdowns and 1,724 rushing yards allowed), so it's a good bet that someone in the Eagles backfield will have success. Given the choice to bet on Smallwood's skills versus Blount's skills, I'd bet on Smallwood.
Robby Anderson is a top-20 wide receiver
The Jets are going to be awful – perhaps historically so. But, I mean, they are still going to gain yards sometimes, and even occasionally score some points. Anderson is the clear top option for the Jets in the passing game after Quincy Enunwa was lost for the season with an injury and Austin Seferian-Jenkins out with a suspension. The Jets may never be a threat to win the game, but Anderson is going to see a ton of targets here. The youngster had a 16.3 average depth of target last season (second best in the NFL), so it's only going to require Anderson to haul in a few of those targets to become a startable option against the Bills, who have a very beatable secondary.
Coby Fleener is a top-five tight end
Fleener obviously disappointed last season, as he struggled in his first year under Sean Payton's system. But he still finished as the number 12 tight end in standard leagues and had plenty of big weeks. Notably, one of his biggest weeks last year (7-109-1) came in the game that Willie Snead missed. Snead will be absent again in this one, forcing Drew Brees to find other ways to beat a tough Vikings defense. With Xavier Rhodes likely to shadow Michael Thomas, Fleener has a good chance to see a lot of targets as the Saints try to find a soft spot in the defense. At a barren position, it doesn't take much to be a top-five option.
Adrian Peterson scores two touchdowns
The Vikings are an incredibly tough defense and allowed the fifth-fewest fantasy points to opposing running backs in 2016. So, this one is legitimately about one thing and one thing only: the revenge narrative. If you've read Peterson's comments, you know he desperately wants to stick it to his old team after a less than amicable parting, and you know the Saints want to accommodate his wishes. It's unlikely that the Saints are going to be able to run up the score on Minnesota on Monday night, so this turns on whether they get close enough to the end zone on multiple occasions to give Peterson some goal-line carries. But at this point, I'd be surprised if Peterson didn't score at least one touchdown, so what's one more?

Subscribe: iTunes | Stitcher | SoundCloud | Google Play | TuneIn | RSS
Dan Harris is a featured writer for FantasyPros. For more from Dan, check out his archive or follow him on Twitter at @danharris80.
What's your take? Leave a comment