Breaking Down the James Paxton Trade (Fantasy Baseball)
James Paxton's second most-life changing event in 2018 has occurred. Yes, second. Remember this?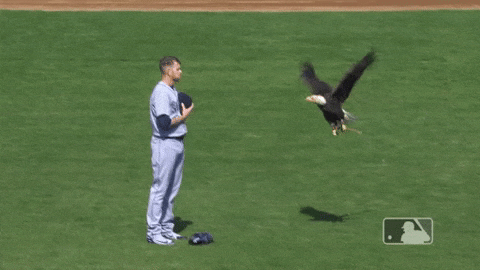 The Eagle Whisperer was traded to the Yankees in exchange for Justus Sheffield, Don Thompson-Williams and Erik Swanson. We will be breaking down what this means for Paxton moving forward, as well as touching on Sheffield's value this year and in the long-term.
James Paxton On the Rise?
Value is relative. As that is, Paxton was being drafted as the 20th overall starting pitcher in 2018 according to FantasyPros and was consistently ranked between 70th and 80th overall by the main fantasy sites. Where did he end up, you ask? 90th overall in a standard Yahoo! league, and the 25th starting pitcher. So, the fantasy experts got this one right, generally. Striking out 208 guys in 160 innings will do that for you. His FIP and xFIP, while imperfect measures, show much better, coming in at 3.24 and 3.02, respectively, than his 3.76 ERA.
Given the high-quality arms in front of him, is it feasible for Paxton to move any higher? The non data-based answer to that is pretty boring — it depends on his health. Paxton has pitched 121, 136, and 160 1/3 innings from 2016-2018. To expect him to eclipse even 175 innings is ambitious. However, we are seeing plenty of pitchers who are impacting fantasy teams in extremely meaningful ways without getting to 200 innings (Blake Snell, AL Cy Young winner and the fourth best SP in 2018, tossed 180 2/3 innings).
Looking at the data, we know what went right with Paxton in 2018 — a 13.2% increase in strikeout rate, and a slight decrease in walk rate. Let's examine what doesn't look as good:
Paxton doubled his HR/9 from 0.60 to 1.29
His groundball rate fell from 45% to 40%
Inversely, his flyball rate increased from 7.8% to 14.4%
How will that fare in Yankee Stadium and in the AL East, you ask? Let's take a peek:
In limited innings (23, to be exact), Paxton let up a .327/.378/.495 triple-slash to lefties, as compared to .201/.254/.364 to righties. This holds up from a career perspective as well. Further, his wOBA of .204 at home is much shinier than the .311 wOBA on the road. A .311 wOBA is nothing to be concerned about, but Paxton becomes a much more ordinary pitcher going forward if that stays consistent in 2019.
The bad news for Paxton is that Yankee Stadium created the sixth most runs and home runs in 2018. Everyone knows about the short porch out in right field. Didi Gregorius would be a very different fantasy asset playing in most other parks. The change in parks definitely puts a damper on his fantasy outlook. Pitching in the AL East vs. AL West may not make much of a difference, given that he gets to pitch against the Orioles and Blue Jays, but he also has to face the Red Sox, of course.
There is certainly positivity to Paxton, mainly in the form of wins. I think we can all say with certainty that the Yankees will win significantly more games than the tanking, ahem, rebuilding, Mariners. As a natural byproduct, Paxton is in line to pick up more than his 11 wins in 2018. Not that Pax is going to evolve into Snellzilla and get to 21 wins with a sub-2.00 ERA, but a 3.50 ERA, 200 Ks, and 15 wins in 170 innings is certainly possible. Steamer is projecting numbers slightly worse than that. That would bump him up to about the 20th best starting pitcher. That's all fine and dandy, but early projections from ESPN have Paxton as SP15 and in the top 60. His injury risk is not being baked into that price.
The fantasy community seems to be valuing ace-like pitchers at a higher rate this offseason, meaning you'll have to snag Paxton at the back end of the fifth round in 12-team leagues. There are many other safer players with even higher upside, including names like Whit Merrifield, Corey Seager, Walker Buehler, Jack Flaherty, and even Patrick Corbin. I'd prefer all those names before Paxton.
Justus Sheffield 2019 Outlook
The prized prospect that comes over to Seattle, Sheffield made his MLB debut in 2018 with the Yankees, albeit an unsuccessful one in a very limited sample size (three runs allowed in 2.2 innings, no strikeouts). Obviously, we aren't using that in any projection. FanGraphs currently has him as the Mariners' top prospect and 54th overall. He has a high-90s heater and strikes out a batter an inning. Comps have him as another Marcus Stroman. A useful fantasy asset, but not a league-winner.
He probably won't begin 2018 in the majors but will certainly be up in late April/early May, or at the first sign of injury for a Mariners' starting pitcher. He will probably be mostly a streamer against bad teams at home in 2019, but he figures to be a mid-rotation starter and is a great hold in dynasty leagues. However, it may be a while until the Mariners contend again, meaning that if fantasy continues to value wins as a stat, he may come up short in that category for another 2-3 years. The hype will only grow around Sheffield if he can cut his walk rate down and try and pump out a few more strikeouts.
Carmen Maiorano is a featured writer at FantasyPros. For more from Carmen, check out his archive and follow him @cmaiorano3.
What's your take? Leave a comment