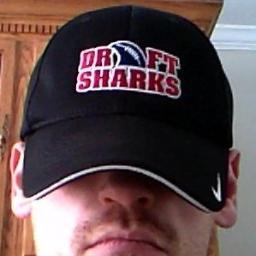 Matt Schauf
Draft Sharks

Against the Spread: Super Bowl Picks
Game: Philadelphia Eagles at New England Patriots (-4.5)
Pick: New England Patriots (-4.5)

Game: Will the combined score be over or under 48 points?
Pick: Under

Game: What will the total combined points be at the end of the game?
Pick: 39



Against the Spread: Conference Round Picks
Game: Jacksonville Jaguars at New England Patriots (-9)
Pick: New England Patriots (-9)
Warren Sharp did an excellent analysis this week on how playing something other than "11" personnel on offense has produced much more success against the Jaguars. I'll guess the Patriots are sharp enough to also realize that. And they have enough options on offense to exploit that. Plus, the Jags already used up the rest of their points for the year last week.

Game: Minnesota Vikings at Philadelphia Eagles (+3)
Pick: Philadelphia Eagles (+3)

Which game pick are you most confident with?
Jacksonville Jaguars at New England Patriots (-9)



Against the Spread: Divisional Round Picks
Game: Atlanta Falcons at Philadelphia Eagles (+3)
Pick: Atlanta Falcons (-3)
Nick Foles stinks, and the Philly pass rush fell off over the season's 2nd half. That has chipped away dramatically at what had been a quality pass defense. If the Falcons can basically control the action in L.A., they're capable of doing so in Philly this weekend as well.

Game: Tennessee Titans at New England Patriots (-13.5)
Pick: Tennessee Titans (+13.5)
Just like the rest of the football world, I believe the Pats will dominate this game. But betting on any team to win by 2 TDs in the post-season is not a good idea.

Game: Jacksonville Jaguars at Pittsburgh Steelers (-7)
Pick: Jacksonville Jaguars (+7)
The Jaguars sport the league's best pass defense by a wide margin and finished 2nd in the AFC in regular-season point differential -- 3.2 points per game ahead of Pittsburgh.

Game: New Orleans Saints at Minnesota Vikings (-4.5)
Pick: New Orleans Saints (+4.5)
This game is so evenly matched all over the place that I believe it'll come down to a turnover or 2. And I'll take Drew Brees over Case Keenum on that front.

Which game pick are you most confident with?
Atlanta Falcons at Philadelphia Eagles (+3)



Against the Spread: Wild Card Picks
Game: Tennessee Titans at Kansas City Chiefs (-8)
Pick: Kansas City Chiefs (-8)
The Titans enter the playoffs with the league's No. 18 offense and No. 21 defense, according to Football Outsiders' DVOA. They'll face a Chiefs squad that ranks 4th in offense and 30th on defense, and the latter unit toughened up late in the year. K.C. snatched 12 takeaways over just the final 4 weeks and held 5 of its final 7 opponents to 16 points or fewer.

Game: Atlanta Falcons at Los Angeles Rams (-5)
Pick: Los Angeles Rams (-5)
If you look at Football Outsiders' Total DVOA, the difference between the Rams and the Falcons (13 spots) equals the Jags-Bills split and is wider than the Chiefs-Titans gap. Yet the Vegas line stands significantly smaller. Give me the clearly better team here, easily.

Game: Buffalo Bills at Jacksonville Jaguars (-8.5)
Pick: Buffalo Bills (+8.5)
Blake Bortles posted a career-best INT rate but reminded us that he's still Blake Bortles with 5 INTs over the final 2 games. Buffalo's secondary is easily the strongest piece on that entire team. Doug Marrone knows playoff matchups swing on turnovers, and I think there's too much turnover potential in the Jacksonville offense to count on the Jags with such a big line in what looks likely to be a lower-scoring game.

Game: Carolina Panthers at New Orleans Saints (-6)
Pick: New Orleans Saints (-6)

Which game pick are you most confident with?
Atlanta Falcons at Los Angeles Rams (-5)



Start/Sit Week 13
Give us a player (non tight end) outside of our top 100 Flex that represents a deep sleeper start and tell us why you think he has upside this week.
Dede Westbrook has played just 2 games for the Jaguars but has seen 3 more targets than his nearest teammate. He jumped from 44% playing time to 70% last week at Arizona. The Colts have actually done well at limiting opponent passing the past 4 weeks but appear likely to miss top CB Rashaan Melvin this weekend because of a hand injury. This could be a true breakthrough spot for the rookie wideout.
On the flip side, what player inside the top 40 Flex is likely to disappoint fantasy owners this week?
Only twice all year has Tevin Coleman carried more times than Devonta Freeman in a game both started -- both in contests Freeman left early with injuries. Even as Freeman's attempts have dipped since the Week 5 bye, Coleman has yet to reach double-digit carries in a game Freeman finished. He also hasn't caught more than 1 pass in a game since Week 4 and drew 12 of his 18 season red-zone rushes over the past 3 weeks -- with Freeman out. Now that Freeman's set to return, Coleman doesn't belong in starting RB territory. He'll likely need to break a big play to pay off.