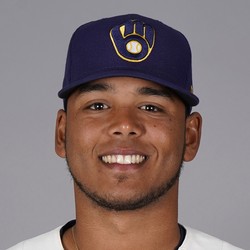 Freddy Peralta
SP - MIL -
DL10
Age: 22Bats: RThrows: R
Freddy Peralta (shoulder) placed on 10-day IL
The Brewers placed Freddy Peralta on the 10-day IL on Tuesday with a right shoulder injury.
Fantasy Impact
Peralta pitched against the Cardinals Monday and allowed three runs over 3 1/3 innings. The Brewers did not mention a possible injury before placing Peralta on the injured list, but this certainly could be behind his recent struggles. The Brewers should provide a timetable soon.
Freddy Peralta can't make it through four Monday
Freddy Peralta allowed three runs on four over 3.1 innings in the Brewers' 10-7 win over the Cardinals on Monday. He walked three and struck out three in the no decision.
Fantasy Impact
It was another frustrating outing for Peralta, who has failed to pitch four innings in three of his four starts this season. He only lasted 64 pitches and gave up two first inning home runs. Peralta is too volatile to be trusted right now, especially in his next matchup Saturday against the Dodgers.
Freddy Peralta roughed up by Angels Tuesday
Freddy Peralta allowed seven earned runs on eight hits over 3.1 innings in the Brewers' 11-8 loss to the Angels on Tuesday. He struck out five and walked one in the no decision.
Fantasy Impact
This is what makes Peralta so frustrating to own. In his previous start he threw eight scoreless innings with 11 strikeouts, and in this one he got absolutely hammered. Peralta really had trouble with Tommy La Stella, who homered off of him twice. The silver lining, if there is one, is that Peralta only walked one batter, as walks have been a huge reason for his poor starts in the past. It still took him 92 pitches to get 10 outs, and only 56 of those pitches went for strikes. He'll look to rebound Monday against the Cardinals.
Freddy Peralta K's 11 in dominant win Wednesday
Freddy Peralta fired eight scoreless innings and improved to 1-0 in the Brewers' 1-0 win over the Reds on Wednesday. Peralta allowed two hits, no walks, and struck out 11.
Fantasy Impact
Peralta carved up the Reds lineup with his fastball, and even threw a few more curveballs than usual in this one. There was a lot to like from Peralta in this game, but perhaps most encouraging was the zero walks allowed. This was the first time Peralta had ever allowed zero walks in a start. Peralta's two-pitch approach and poor control means he'll always be a little volatile, but he obviously has huge strikeout upside. He'll look to stay hot next time out against the Angels on Tuesday.
Freddy Peralta struggles in loss Friday
Freddy Peralta allowed four runs on six hits over three innings in the Brewers' 9-5 loss to the Cardinals on Friday.
Fantasy Impact
Peralta's control failed him in this one, as it took him 80 pitches to labor through three innings. Only 52 of those pitches were strikes, and he issued three free passes in just three innings. This is the downside to Peralta, and he's liable to unravel like this on any given night. He's probably best left on the bench next time out in Cincinnati.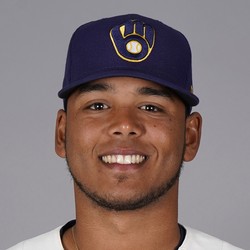 Availability
---
---