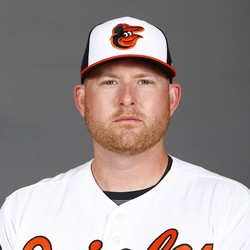 Mark Trumbo
RF,DH - BAL
Height: 6' 4"Weight: 225 lbsAge: 31Bats: RThrows: RCountry: USA
Mark Trumbo hits 18th homer
In just his second game since returning from the DL, Mark Trumbo hit his 18th home run of the season on Thursday against the A's. The solo shot was Trumbo's lone hit in four at-bats during the Orioles' 7-2 victory.
Fantasy Impact
With 18 home runs in 105 games this season, Trumbo has regressed from his career-high 47 bombs last season. However, he should continue to be a good source of power for fantasy owners over the rest of the season.
Mark Trumbo has encouraging signs from MRI
Mark Trumbo got positive news from his MRI Tuesday, and is likely to return from the DL when he is eligible, which is in a week. Trumbo has been on the DL with a strained rib cage.
Fantasy Impact
The Orioles have not missed a beat since Trumbo has been out, but they will certainly welcome their impact bat back when he is ready. Look for Trumbo to improve on his underwhelming numbers (17 homers, 50 RBIs) upon his return.
Mark Trumbo placed on DL
Mark Trumbo has been placed on the DL with a rib cage strain. An MRI is set for Tuesday.
Fantasy Impact
Trumbo has had a middling fantasy season, but this injury still stings for fantasy owners. More will be known after his MRI on Tuesday. His seasonal stats lie at 17 homers, 50 RBIs, and 62 runs scored. He has only been batting .183 over the past month, so maybe he can mentally recover during his time off as well.
Mark Trumbo placed on DL with rib cage strain
Mark Trumbo was placed on the disabled list Monday by the Baltimore Orioles with a rib cage strain, according to Jon Meoli on Twitter. The move is retroactive to July 30, and he is scheduled to have an MRI on Tuesday.
Fantasy Impact
In the short term, this move creates a roster spot for the newly acquired Tim Beckham, who the Orioles acquired from the Rays prior to Monday's trade deadline. Trumbo had been struggling lately, going 0-for-21 with seven strikeouts his last four games, so it is possible this injury has been bothering him for some time. More information should be known on Tuesday or shortly after about just how much time Trumbo is going to miss, but for now, he is out for at least the minimum 10 days required.
Mark Trumbo playing 1B Monday
Mark Trumbo is batting cleanup and playing 1B for only the second time this season.
Fantasy Impact
Trumbo is only three games away from eligibility in leagues with more lenient positional eligibility requirements. 1B eligibility would be nice for Trumbo owner, though it wouldn't give him a huge fantasy boost given the depth of the position.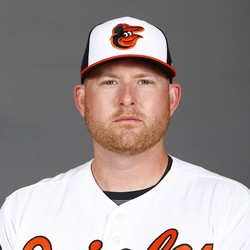 Availability
---