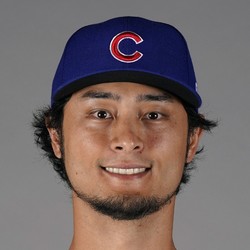 Yu Darvish
SP - TEX
Height: 6' 5"Weight: 215 lbsAge: 31Bats: RThrows: RCountry: JPN
Yu Darvish falls short against Blue Jays Saturday
Yu Darvish allowed five hits and three runs while walking three and striking out four over six innings Saturday against the Blue Jays in Toronto. The game-breaker came with a Jose Bautista 3-run homer in the fifth. It was all the Blue Jays needed as they won 3-1, and Darvish, while getting tagged with the loss, also earned a quality start. With the loss, his record slips to 5-3 on the year. He will pitch again Friday against Dallas Keuchel and the Astros in Arlington.
Fantasy Impact
Darvish is not without his issues, like an inflated BB/9 ratio of 3.88, and he walked three more today. And he was just inefficient today and that bled over to his K/9 ratio, which is 9.30 for the season yet he recorded four today. But nobody has any concerns in particular. He'll bounce back.
Yu Darvish notches fifth victory Sunday night
Yu Darvish allowed five hits and two runs (both earned) while walking four and striking out seven over five innings Sunday night against Detroit at Comerica Park. It wasn't the most efficient of outings but it was enough to get Darvish the win as the Rangers' defeated the Tigers 5-2. With the win, Darvish is 5-2 on the year. He will pitch again on Saturday against Marco Estrada and the Blue Jays in Toronto.
Fantasy Impact
If you're a pitcher, a good pitcher, when you are having an 'off' night, you have to limit damage and that is what Darvish did. He is very talented and is in the process of having a strong year. He is carrying a 3.82 FIP along with a 2.83 ERA. Supplement that with a solid 9.61 K/9 and you have the ingredients of what could be a tremendous year if he gets more efficient, and he should do just that.
Yu Darvish dominates Phillies over seven Tuesday night
Yu Darvish allowed four hits and one run (earned) while walking two and striking out nine over seven innings Tuesday night. His performance gave the Rangers' their seventh straight win and improved his record to 4-2 on the year. In his last five starts, all of which have been Rangers wins, he's compiled a 2.38 ERA and a strikeout-to-walk ratio of more than 3-to-1. Darvish will pitch again on Sunday against Matt Boyd and the Tigers in Detroit.
Fantasy Impact
Darvish is set to have the kind of year that can win fantasy championships. He's flying under the radar a little bit now but owners will be ecstatic with his production this year.
Yu Darvish earns quality start against Padres Wednesday
Yu Darvish allowed seven hits and three runs (all earned) while walking none and striking out six over six innings Wednesday night against the Padres. Two of hits were solo home runs. Although it was a no-decision for him, Darvish did earn the quality start in the 4-3 Rangers' victory. He will pitch again on Tuesday in Arlington against Jerad Eickhoff and the Phillies.
Fantasy Impact
Darvish is having a solid year and carries a 2.96 ERA along with a 3.98 FIP. He is strong and well-motivated in a contract year. Wouldn't be a surprise to see him end up with a spectacular year.
Yu Darvish allows one run against Mariners in no-decision
Yu Darvish allowed one run over seven innings in a no-decision on Friday against the Mariners. Darvish gave up six hits and walked four, while striking out five.
Fantasy Impact
Darvish has now walked four batters in each of his last two starts, but his WHIP is just 1.12 on the season, thanks to his ability to limit hits. Darvish has just a 9.7% swinging strike rate, which represents a career-low, and he has just 46 strikeouts in 45 2/3 innings. That's a great number for a mere mortal, but less than fantasy owners expect from Darvish. He will take on the Padres in his next start.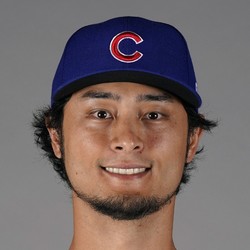 Availability
---