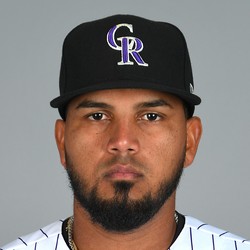 German Marquez
SP - COL
Age: 24Bats: RThrows: R
Coors Field has claimed another victim. A source of heated debate before and during the season, Marquez overcome his surroundings with help from a favorable early schedule featuring trips to Miami and San Francisco. More exposure to his home park has deflated the breakout potential; he has a 6.45 ERA and .320 opposing average at Coors Field compared to a 3.52 ERA and .206 opposing average on the road. He may be a top-20 ace if pitching for another team, but the high altitude won't allow him to flourish as a top fantasy option. After surrendering 11 runs against the Giants, managers can only start him on the road.
Marquez has been downright dreadful at home this year but is once again solid on the road. You can continue to use him in half his starts while we wait out that top 20 potential and see if it returns.
It's been the same old story with Marquez: struggles at Coors Field and dominance on the road. His peripherals suggest he deserves a better fate, but until we see him have sustained success at home, he is really a glorified streamer, albeit a very high-end one.