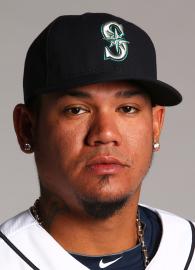 Felix Hernandez pitched seven innings, allowing two runs on five hits, while striking out six batters. The Mariners beat the Athletics 4-3 as King Felix improved to 6-0 on the year.
Fantasy Impact: Hernandez owns a 1.85 ERA and is as close to a sure-fire ace as there is in the American League. He is a must-start, must-own in every fantasy league, but one cause for concern would be the long-ball. Hernandez allowed two runs, both coming off of solo home runs from Marcus Semien.
Category: Game Recaps
---
This was yet another gem for Felix Hernandez who managed to scatter six hits over seven innings, giving up just one earned run. The lone run was a home run in the seventh inning by Matt Joyce. Hernandez managed to tally eight strikeouts as well and gave just one base on balls.
Fantasy Impact: No surprise here as King Felix continues to dominate on the mound. The Mariners are now 6-0 this season when Hernandez starts. This is largely due to the fact that he has given up just eight earned runs in his six starts this year. You obviously should be deploying him in your lineup every time he takes the mound. You also should strongly consider taking him in daily fantasy games whenever he is available. Hernandez is next scheduled to start May 10th at home against the Athletics.
Category: , Game Recaps
---
Felix Hernandez pitched a complete game, allowing five hits, striking out nine batters, without allowing a run in the Mariners 2-0 victory over the Twins. Hernandez improved his record to 3-0 on the year.
Fantasy Impact: Hernandez lowered his ERA to 1.61 on the season, as he continues to display his dominance on the mound. The lone bright spot in the M's rotation, Hernandez is a must-start every time he steps onto the diamond.
Category: , Game Recaps
---
He made it through five innings and the team is saying it was a precautionary move and that he is expected to make his next start against the Rangers on Saturday. He allowed eight hits, three runs, two walks and recorded one strikeout in the game against the Athletics today. (Source: Greg Johns on Twitter)
Fantasy Impact: You can breathe a bit easier now that nothing serious occurred. Hernandez will not miss any time and continue having an outstanding year for his owners.
Category: , Injury Updates, Game Recaps
---
Felix Hernandez took the mound against the Chicago Cubs on Saturday and it did not go well. He lasted 2 2/3 innings allowing 6 runs on 6 hits. He also gave up two home runs, one walk, and struck out two.
Fantasy Impact: This is nothing to be worried about. Pitchers often times get hit hard in spring training as they are still working on pitches, location, building up endurance, etc. Feel comfortable making Hernandez the second starting pitcher off the board right after Clayton Kershaw.
Category: , Game Recaps
---