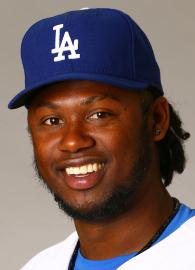 Red Sox manager John Farrell has nothing but good things to report so far this spring in regards the Hanley Ramirez and his presence in the Boston clubhouse. Ramirez to his credit said that during his time in the Marlins and Dodgers organizations he learned a lot about how to prioritize the team's interest over his own. (Source: Brian MacPherson - Providence Journal)
Fantasy Impact: Attitude is not something that necessary shows up in the stat line in a quantifiable way. However, reports like these are certainly encouraging considering the organization and position changes Ramirez made this off season. While he's not the all around fantasy stud he was his first 5 season in Miami, Ramirez was still good enough to post a 132 OPS+ in 449 AB's with the Dodgers last season. Production like that easily slides him into the top tier for fantasy baseball shortstops.
Category: Rumors
---
Returning to the team that originally drafted him, new Boston outfielder Hanley Ramirez seems to have matured and found a new perspective on his baseball career. (Source: Rob Bradford - WEEI)
Fantasy Impact: Mature or not, Hanley Ramirez can hit. The question has always been his health. The move to the outfield could reduce the everyday wear and tear that wore Ramirez down while manning shortstop. If so, a monster year could follow for the 31 year old who will still retain his SS eligibility in 2015.
Category: , Rumors
---
Hanley Ramirez is planning on arriving in Fort Myers on Feb. 9, about two weeks before position players are due to report. That will give Ramirez additional time to get work in at his new position, left field. But even before he arrives for spring training, his preparation has already begun. Ramirez has been working out in the outfield in his native Dominican Republic for several weeks now. "I've een working on balls [hit] over my head and [moving] side-to-side,'' said Ramirez at the Red Sox' Winter Weekend at Foxwoods Casino, "and hitting the cutoff man. I think if I put in all the work in that I need to put to get better, it's not going to be that hard.'' Ramirez has brief experience playing the outfield in Instructional League and winter ball and thinks he can make the transition successfully. (Source: CSNNE)
Fantasy Impact: Hanley Ramirez starting training camp two weeks early is great news for Red Sox fans and fantasy owners. Ramirez has never been known for his effort and dedication so to hear that he is committed to learning a new position could mean a new attitude. Ramirez could be primed for a huge year if he can stay healthy and is able to learn left field.
---
Though John Farrell won't submit a lineup card in a regular-season game until April 6, the manager already has a pretty good idea of the way he plans on slotting his Red Sox players. In a radio interview with WEEI on Thursday night, Farrell revealed that he's leaning toward putting Hanley Ramirez in the cleanup spot. Farrell likes the left-right balance he could have in the middle of the order, with lefty David Ortiz batting third, followed by Ramirez (right-handed), Pablo Sandoval (switch-hitter) and Mike Napoli (righty). "The one thing that clearly stands out is we have balance left- and right-handed," Farrell said. "I have always liked David in the No. 3 hole. You know he is going to come up in the first inning. I think Hanley gives David some protection behind him. Then you start to create some protection, and we want to keep Sandoval on the left side of the plate as much as possible." (Source: MLB.com)
Fantasy Impact: The biggest key with Hanley Ramirez is staying healthy. He has proven in his previous stops that when he can stay on the field he is a dominant hitter. If Ramirez bats cleanup in the revamped Red Sox lineup he could be a top 10 fantasy player. Having shortstop eligibility as well as gaining outfield eligibility this season makes him even more intriguing. It will be a roll of the dice when drafting Ramirez this year. Fantasy owners who take the risk will be hoping for Ramirez to be able to stay in this lineup and have a monster year.
---