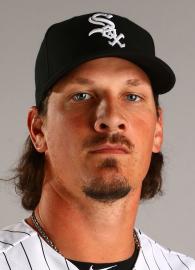 Jeff Samardzija had a very good outing on Friday against the Tigers. He went eight strong innings, scattering eight hits and allowing just one run that came on a solo blast by Yoenis Cespedes. Samardzija added seven strike outs and didn't walk any batters. The Sox ended up losing 2-1.
Fantasy Impact: Fantasy owners can rejoice after a very solid showing from Samardzija. He seemed to get strongier as the game went on and had his fastball up around 95-96 MPH in the late innings. Hopefully he has put his early struggles behind him.
Category: Game Recaps
---
Jeff Samardzija got a no decision on Saturday in the White Sox 5-4 win over the Twins. He allowed four runs on eight hits and no walks while striking out six in his seven innings of work. All the Twins scoring came in the second inning.
Fantasy Impact: Take away the second inning and it was actually a very nice outing for Samardzija. He's not off to the start owners had hoped for but he will look to turn it around in his next start. He will have to avoid the big inning in his next start against a good offensive Tigers team.
Category: , Game Recaps
---
Samardzija allowed five earned runs on six hits and three walks over his six plus innings of work. He also hit two batters and threw just 56 of his 92 pitches for strikes. He added just one strikeout to his totals.
Fantasy Impact: It was not exactly the start that fantasy owners had hoped for from Samardzija, but it's not time to panic. He was shaky with his command and he didn't have too much luck on his side either. Hopefully, he can sort out his control issues before his next start.
Category: , Game Recaps
---
Samardzija saw his spring ERA balloon to 7.79, after serving up four long balls to the Cubs over six innings en route to a 6-3 loss. Samardzija's nine strikeouts with no walks showed the stuff was there, but he just left a few over the heart of the plate.
Fantasy Impact: Don't hit the panic button just yet on Samardzija. His 8.28 K/9 rate coupled with a 4.2 WAR in 2014, puts him up as one of the better pitchers in the game. Draft him with confidence in the earlier rounds in all leagues, as a solid SP2.
Category: , Game Recaps
---
Jeff Samardzija stated his goal for this season on Tuesday, telling the Chicago Tribune he hopes to make all of his 33 starts in 2015. Samardzija has taken the ball 33 times each of the last two seasons. (Source: Chicago Tribune)
Fantasy Impact: Staying healthy is a valuable attribute, and fantasy owners have appreciated Samardzija taking the ball every fifth day for the past two seasons. Only James Shields, R.A Dickey, and Chris Tillman have made more starts than Samardzija since the start of 2013. Samardzija will be a valuable top of the rotation fantasy SP this year if he can duplicate last year's ratios (2.99 ERA and 1.07 WHIP) and get solid run support from the revamped White Sox offense.
---
The Chicago White Sox and Jeff Samardzija avoided arbitration by agreeing to a one-year, $9.8 million contract. (Source: Chicago Tribune)
Fantasy Impact: In his final year of arbitration, Samardzija earned a well-deserved pay raise. Between the Cubs and Athletics in 2014, Samardzija finished with a 2.99 ERA, 1.07 WHIP, and 202/43 strikeout-to-walk ration in 219 2/3 innings pitched. Samardzija has always been good, but a little inconsistent. Serving as the number 2 starter behind Chris Sale, expect Samardzija to put up less stellar numbers than he did last year, now with the move to hitter-friendly U.S. Cellular Field, with an ERA in the 3.50 to 3.90 range.
---