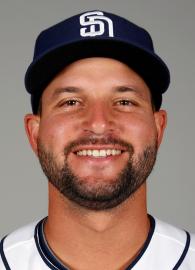 Yonder jumped his avg. to .300 yesterday with a 3 hit performance against the D-Backs. About 10 days a go it was .217, and it looked like he might be out of the starting role. His past 10 days could really help him fend off Tommy Medica and Carlos Quentin for the 1st base job.
Fantasy Impact: I do not think Yonder Alonso is worth drafting but if you have someone that is hurt or suspended like Chris Davis, then I would look at Yonder to keep his bat hot to start the season.
Category: Game Recaps
---
Yonder Alonso struck out twice, going 0-3 against the Indians in Sunday's Cactus League game.
Fantasy Impact: This was the third consecutive game that Yonder Alonso failed to record a hit. The Padres say they are committed to him at 1B but they will need an improvement on the 22 HR he has managed over his three seasons as a Padre. Yangervis Solarte and Carlos Quentin have also played games at 1B this spring.
Category: , Game Recaps
---
Yonder Alonso hit a big double with bases loaded to bring in 3 runs today and ended up 3 for 3, with two doubles with 3 RBI.
Fantasy Impact: After going hitless in his first six spring at bats Yonder came to play today. He wants to claim first base for the Padres, but it will take more than one good outing. He just doesn't have enough upside to make him worthy of a roster spot in most formats.
Category: , Game Recaps
---
Alonso goes 0-3 in the spring opener, striking out twice.
Fantasy Impact: Alonso needs to hit this spring or he will not be the Opening Day first baseman. He's not a viable fantasy option at this point.
Category: , Game Recaps
---
The disappointing former top prospect batted just .240/.285/.397 during an injury-shortened 2014 season. He's slated to open 2015 as the starting first baseman. (Source: Rotoworld)
Fantasy Impact: Alonso has been a disappointment, neither showing power nor average since coming to San Diego. The opportunity is there for Alonso, as he might be batting 5th hitting right after Justin Upton. If Alonso's potential is met, the Padres lineup could be very good. There is not a good chance that Alonso has a big season, though, and is not worth more than a CI in an NL-only league
---