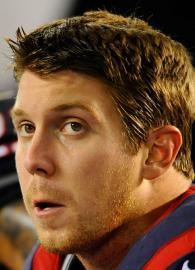 | TE | Matchup | Alerts |
| --- | --- | --- |
| #36 | vs. PHI | |
By Christopher Morgan, Texans Correspondent, Wed, Sep 10th 8:01pm EDT
Graham (back) was limited in Wednesday's practice. (Source:
houstontexans.com
)
Fantasy Impact: The wait continues for Graham's 2014 debut. He looks to have a favorable match-up against a Raiders defense which gave up 7 catches for 57 yards to Jets' tight ends in Week 1. Houston tight ends were not impressive without Graham against Washington.
By Christopher Morgan, Texans Correspondent, Fri, Sep 5th 4:11pm EDT
Graham was listed on the Texans' injury report for on Friday (back) and has not practiced this week. O'Brien said it is not "a major injury", but Graham would have to work-out "the morning of the game". Graham is the 27th ranked TE on FantsyPros this weekend against Washington and many experts project him with Top-15 upside. (Source:
Houston Chronicle
)
Fantasy Impact: O'Brien has been notoriously blasé about player injury news, so there is definite reason to doubt that Graham will play. The Texans play at 1:00 PM EST, so if you have another TE in a later game, you may want to roll him out this weekend.
By Aaron Hemenway, Texans Correspondent, Thu, Aug 14th 8:29pm EDT
Nonexistent in the Texan's preseason opener against the Cardinals, dropping his only target, it's difficult to know what to expect from Texans TE Garrett Graham this season. But if last season is any indication, when he failed to capitalize after Owen Daniels was sidelined, we can expect Ryan Griffin and rookie C.J.Fiedorowicz to be in the mix for snaps. (Source:
ESPN
)
Fantasy Impact: Graham was a mere average TE last season, going 49/545/5 in 13 games. It seems Coach Bill O'Brien will be using a lot of two-TE formations this season. However, if the Texans offensive line doesn't improve their blocking and take some pressure off the QB, the TE slots will remain a huge factor. Look for Graham to be a late-round draft pick, so it's best to keep any idea of drafting him on the back burner for now.
No recent player news or notes available