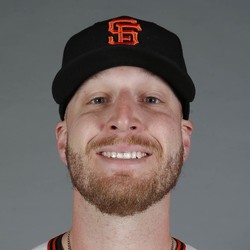 Will Smith
RP - ATL
Age: 31College: Gulf Coast Community CollegeBats: RThrows: L
Will Smith goes an inning Wednesday
Will Smith pitched an inning Wednesday, allowing a walk and recording two strikeouts.
Fantasy Impact
Mark Melancon will likely start the year as the 9th inning guy, with Smith pitching the eighth, but manager Brian Snitker has numerous options this year with their bullpen being one of the best in the majors.
Will Smith goes 1 1/3 IP Sunday
Will Smith allowed one hit and one walk while striking out two over 1 1/3 innings Sunday against the Yankees.
Fantasy Impact
Smith is just fine, thank you. He's just getting warmed up for what should be an excellent season for him. He will work in the late innings but it has not been determined whether he will primarily pitch in the eighth or ninth innings.
Will Smith puts in an inning Tuesday
Will Smith put in an inning of work Tuesday, striking out one and allowing no hits or walks.
Fantasy Impact
Smith, Mark Melancon, and Shane Greene form a formidable 7th, 8th, and 9th inning group for the Braves this year. The team has arguably the best bullpen in baseball, it'll be interesting to see who gets the holds and who gets the saves this year.
Will Smith, Braves reach three year contract
Will Smith and the Atlanta Braves have reached an agreement on a three year, $39 million contract.
Fantasy Impact
The deal includes a fourth-year option that could push the value to a total of $52 million. Smith was fantastic as the Giants' closer in 2019, posting a 2.76 ERA with 96 strikeouts in 65 1/3 innings, saving 34 games. He'll enter the 2020 season as a top-15 fantasy closer.
Will Smith receives qualifying offer from Giants
The Giants extended a one-year, $17.8 million qualifying offer to closer Will Smith.
Fantasy Impact
Smith went 6-0 with 34 saves and a 2.76 ERA this season with the Giants. The 30-year-old will likely decline this offer in hopes of landing a multi-year contract.