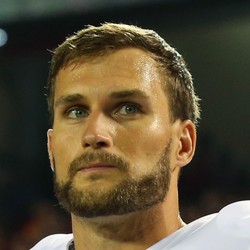 Kirk Cousins
QB - WAS
Height: 6' 3"Weight: 210 lbsAge: 29College: Michigan StateDrafted: #102 (4th Rd.)
Kirk Cousins unlikely to be pursued by Browns
Cleveland Browns beat writer Mary Kay Cabot is reporting the Browns are not expected to "make a run" at Washington Redskins quarterback Kirk Cousins. However, Cabot adds that three other teams around the league have inquired about Cousins in the "past 10 days or so", but were "immediately turned down."
Fantasy Impact
It appears that the Browns, who acquired a boatload of draft picks to likely package in a trade for a franchise quarterback, are not going to pursue Cousins despite the reports via ProFootballTalk.com Tuesday suggesting that they will. Cabot believes that the Browns are out of the mix because of the compensation it would take to ultimately acquire him. Plus, "they'd probably have to make any deal contingent upon a multi-year extension," so that they don't mortgage their future to rent Cousins for one year, per Cabot. And although three other teams reportedly inquired about Cousins, their offers were shot down right away. Cousins could play the 2017 season in Washington after all, with or without a long-term deal in place by the July 15 deadline. He already signed his franchise tag last week. For the Browns, they are still expected to try to trade for Patriots backup Jimmy Garoppolo, or, Bengals backup A.J. McCarron. If they fail to bring in a signal caller via trade, and if they don't draft one, they'll likely enter the season with Cody Kessler as their starter. Unless of course, they sign Jay Cutler, Colin Kaepernick or Geno Smith, who are all available free agents that remain unsigned.
Kirk Cousins signs franchise tender
Washington Redskins QB Kirk Cousins officially signs his franchise tender.
Fantasy Impact
Cousins officially signed his franchise tender and is now able to be traded. The Redskins had mentioned that they are not interested in trading Cousins but the option is now there. Cousins threw for 4,917 yards and 25 touchdowns last season. If Cousins stays in Washington his value will stay the same, if he goes somewhere else- his value could go up and possibly even fall.
Kirk Cousins requests trade from the Washington Redskins
Washington Redskins QB Kirk Cousins has requested to be traded out of Washington.
Fantasy Impact
Cousins met with Redskins owner Daniel Snyder and asked him to be traded. Snyder told Cousins not to give his hopes up. No matter where Cousins goes, he should have fantasy appeal. Depending on where he ends up will determine what tier we can place him in.
Kirk Cousins to 49ers still not out of the question
NFL Network's Mike Silver believes Washington Redskins quarterback Kirk Cousins "wants to be in San Francisco" in 2017. "If I had to guess … I'd say more likely than not that Kirk Cousins ends up being the 49ers quarterback," Silver said via NFL Network's Free Agency Frenzy programming Tuesday.
Fantasy Impact
It appears that not only is Cousins landing with the 49ers when this is all said and done still a possibility, but Silver "believes" it is a scenario that has a better chance of happening than not. Let's face it, barring a miraculous turn of events, Washington botched this situation dating back to last offseason. And, without a long-term deal getting done by the July 15 deadline, Cousins will reach the open market in 2018 and move on from the Redskins with Washington getting nothing in return for a sure-fire franchise quarterback. At least if they deal Cousins to San Francisco now, they could receive a top draft pick, among others, in return.
Kirk Cousins, Tony Romo involved in trade talks
NFL Network's Ian Rapoport is reporting the San Francisco 49ers and Washington Redskins are discussing a potential deal that includes quarterback Kirk Cousins that could transpire in the "near future." The NFL Insider later added that he was "told" the Dallas Cowboys and Tony Romo "may be included" in the deal as well.
Fantasy Impact
It appears that the Redskins and 49ers are, in fact, discussing a potential trade involving Cousins after reports loomed that the signal caller was no longer on the trading block. However, per Rapoport, not only could Cousins be potentially dealt, but Romo and the Cowboys could also be involved. In this scenario, the 49ers would likely acquire Cousins, while sending draft pick(s) to the Cowboys, who will send Romo to the Redskins. This potential deal would not only be viewed as a blockbuster, but it would also be a transaction that benefits all parties involved.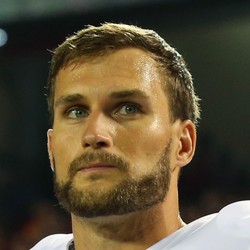 Availability
---