Dan Harris's Fantasy Football Tight End Rankings (2020)
I'll open my tight end rankings discussion with a gif: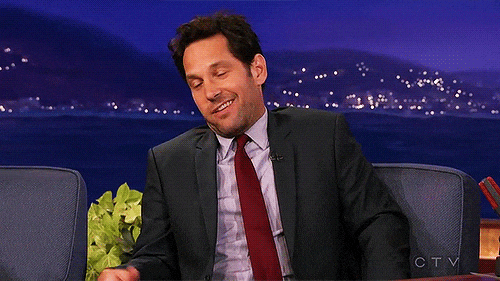 Specifically, the Paul Rudd "whatever" gif. It sums up my feelings about the tight end position from a fantasy standpoint perfectly. Also, Paul Rudd legitimately hasn't aged since Clueless. I'll have what he's having.
This year, more than ever, you have plenty of options in how you want to go about the tight end position.
You can take Travis Kelce or George Kittle in the second round and get a major edge on your opponents.
You can wait until the fourth or fifth round and get an excellent option like Mark Andrews, Zach Ertz, or Darren Waller. A little longer and Hunter Henry or Tyler Higbee can fill your need for a TE1 pretty easily.
Or you can legitimately not draft a tight end at all and pick up Blake Jarwin off waivers and have a pretty good shot at filling the position for the entire year. Legitimately. As I write this, my 21st-ranked tight end is Chris Herndon. If your league went tight end crazy and a bunch of people drafted backups, you can be fine with Herndon as your TE1. You really can.
The difference between my 12th-ranked tight end and Herndon is 17 fantasy points in my projections. That's slightly more than one per game in the fantasy season. While that's not entirely insignificant, it's also not worth worrying about too much in your draft.
In other words, there's no wrong strategy with tight ends. Strike early, wait a bit, wait a little longer, forget the position until the day before the season. You will probably be just fine.
As for who I'd target, Dallas Goedert and the aforementioned Jarwin often find their way onto my teams. Even playing behind Zach Ertz last year, Goedert received 87 targets. And although much of that was due to the Eagles' decimated receiving group, he should still factor into the passing game heavily, particularly with Alshon Jeffery likely to begin the year on the PUP list. Goedert would also immediately vault to a top-five tight end should anything happen to Ertz.
As for Jarwin, not only is he in line to gobble up the vast majority of Jason Witten's 83 vacated targets, but he was sixth among tight ends last year in yards per target. With the Cowboys giving him a four-year extension, he's clearly set to be an integral part of what should again be an explosive offense.
As for those I'm fading a bit, Evan Engram and Noah Fant both have significant competition for targets. As for the former, I'm also a bit concerned about his recent propensity for injury (he's missed 13 games over the last two seasons), and as for the latter, well, I just have not bought into Drew Lock's ability to sustain multiple offensive pieces at this stage of his career.
Practice fast mock drafts with our free Mock Draft Simulator >>


Subscribe: Apple Podcasts | Spotify | Google Podcasts | Stitcher | SoundCloud | iHeartRadio
Dan Harris is the Editor-in-Chief of FantasyPros. For more from Dan, check out his archive or follow him on Twitter @danharris80.
What's your take? Leave a comment