Analyzing This Year's Running Back Dead Zone (2021 Fantasy Football)
Last Monday I made my NFL feature debut with "An Introduction To The Running Back Dead Zone." Before continuing on I highly suggest giving that a read as the piece helps explain why we want to avoid RBs in the Dead Zone. There are a few major takeaways to recall for those who read it last week and just need a refresher:
The RB Dead Zone is rooted in data. When analysts discuss this concept they aren't speaking anecdotally. Over the past six seasons loading up on RBs in Rounds 3-6 has been a negative-EV strategy.
We can still draft an RB in this range, especially if your favorite pick falls to you or a value presents itself. The main point is that we don't want to be reliant on RBs in Rounds 3-6.
We shouldn't focus too much on whether or not certain RBs from this range of players have worked out in the past. That's because over the same six year time frame, wide receivers drafted in this range have proven to be good bets. For each Dead Zone RB we select we are foregoing the opportunity to take a wideout.
With these points in mind it's time to take a look at the running backs being drafted in the 2021 Dead Zone. Reminder to feel free to reach out on Twitter with questions anytime.
Get expert advice during your draft with our fantasy football draft software >>
2021 Dead Zone Running Backs
The below names are the 11 running backs currently being drafted in "RB Dead Zone" over at NFFC. Note that these ADPs are as of Wednesday, July 7th with a timeframe of the past 14 days. I'd also like to note that these are high stakes leagues with gamers who know what they're doing, so draft tendencies might differ from your standard home league.
Alas, let's take a closer look at each of these players to determine whether or not their ADPs make sense.
D'Andre Swift (RB – DET) ADP: 25.0
We kick things off with a second-year player who profiles as a high-risk fantasy selection for several reasons. First, he has the highest opportunity cost of any other Dead Zone RB. So is this a case of his value being propped up due to the position he plays? It pains me to say that's likely what is happening here. I love Swift as a talent. I think a lot of us do. The bigger issue is his situation — Swift is dealing with a poor offensive environment and competition from coach's pet Jamaal Williams, who OC Anthony Lynn referred to as an "A" back earlier this offseason. Swift saw 4.4 targets per game despite not starting until halfway through his rookie season, and he showed a nose for the end zone by scoring 10 times, but there are simply too many red flags at the moment. Swift ultimately profiles as someone I'd rather be targeting at the 3/4 turn.
J.K. Dobbins (RB – BAL) ADP: 28.6
Here we have another sophomore RB who has a clear path to under performance. Similar to Swift, Dobbins is a fantastic talent who averaged 6.0 yards per carry in 2020. His red flag is an easy one to spot, though — pass game usage, or lack thereof. For Dobbins to pay off as a third-round pick in full PPR formats he must maintain the high level of efficiency he showed last year, which is something we generally don't want to bet on. From Week 8 on last season both Dobbins and teammate Gus Edwards combined for just 2.2 targets per game. Notice the key words combined and targets. The Ravens simply don't throw to their running backs. The play here seems obvious — target Edwards where the low opportunity cost actually makes him a strong value, and thus fade Dobbins unless playing in a standard league.
Chris Carson (RB – SEA) ADP: 38.9
The Seahawks showed their intent to continue using Carson by signing him to a two-year, $10.4 million deal while declining Rashaad Penny's fifth-year option this offseason. That's exactly how Carson stans wanted things to break, and it's admittedly hard not to get fired up about a former seventh-round pick of the NFL Draft set to enter his fourth season as his team's featured runner. I'm not here to predict injury but Carson is set to turn 27 in September and is seemingly always a bit banged up. This hasn't stopped him from finishing as the RB12 and RB10 in PPR points per game the past two seasons. Set up for another boring-but-safe fantasy campaign, fading him at ADP has everything to do with his inclusion in the Dead Zone, and a preference for the wideouts being taken around him.
Miles Sanders (RB – PHI) ADP: 39.9
Philadelphia's third-year RB is set up for the best efficiency of his career thanks to the rushing upside of Jalen Hurts at quarterback. However, the presence of Hurts limits Sanders' receiving game ceiling as well as the potential for maximum goal-line touches. Remember that new head coach Nick Sirianni comes from a RBBC background. The Eagles still roster Kenneth Gainwell, Boston Scott, Jordan Howard, and Kerryon Johnson, in addition to Sanders.
David Montgomery (RB – CHI) ADP: 41.7
The difference between Montgomery and Jonathan Taylor, who both finished 2020 on absolute heaters while facing a soft schedule, is that we actually thought Taylor was good before his breakout. Montgomery was trending towards "JAG" territory before parlaying an every-down role into an overall RB4 finish. It would be one thing to question his value if we expected that role to continue. The return of Tarik Cohen and addition of Damien Williams kill my enthusiasm, though.
Josh Jacobs (RB – LV) ADP: 49.2
It's really bizarre to draft a running back in the first round, watch him succeed between the tackles, flash as a receiver, and yet refuse to give him a chance at a featured role. Worse? The Raiders gave Kenyan Drake the most guaranteed money that any RB received in free agency this spring. Jacobs looks like a highly talented player, but at this point we need to read the tea leaves. He isn't getting a three-down role barring injury. Similar to the Dobbins/Edwards situation I'd rather take the cheaper teammate as opposed to paying a top-50 price tag for a two-down grinder on a mediocre offense.
Travis Etienne (RB – JAC) ADP: 51.1
Here we have a situation to dream on. As a rookie, Etienne offers theoretical untapped upside. I'll start by saying that we should view it as a plus that the Jaguars lined him up at wide receiver during spring workouts. OTAs are the time to sharpen skills that you don't have as much time for during the season, so I'm not viewing those reports as net negatives. The Clemson product certainly possesses big-play upside and could be ticketed for a strong target share in Urban Meyer's offense. Yet it's tough to project him for said target share while competing with James Robinson, Carlos Hyde, Laviska Shenault, D.J. Chark, and Marvin Jones for looks. Etienne, to me, is a bet-on-talent player who I fear will wind up as a big-play dependent FLEX option. Yet I must admit if everything breaks right he has the talent to smash this ADP.
Javonte Williams (RB – DEN) ADP: 54.3
For Williams truthers it's encouraging that the Broncos utilized the 35th overall pick on him despite already rostering Melvin Gordon and Mike Boone. The adoration for Williams could produce mass hysteria should Denver actually Gordon this summer, but beat writers have tempered those expectations as of late. Still, Williams profiles as a classic situation where we forecast the rookie taking on a bigger workload as he (hopefully) outplays his veteran competition. The optimal move is probably trading for Williams in late-September, but he isn't as egregious of a pick as other Dead Zone RBs. Before selecting him fantasy managers need to acknowledge there's a chance he has a diminished role to start the season. Range of outcomes, people! It's the best way to play fantasy.
Myles Gaskin (RB – MIA) ADP: 55.5
The 24-year-old Gaskin is a former seventh-round pick whose fantasy value is directly tied to what the Dolphins do at running back the rest of the summer. We know that Gaskin can succeed in fake football when he has the backfield to himself. He was a top-eight PPR back on a per-game basis in 2020, after all. Yet he's a late-summer signing away from his value crumbling. I don't think Gaskin is as egregious of a pick as the man below him, but his dependency on factors outside of his control make me hesitant to invest in him this offseason.
Mike Davis (RB – ATL) ADP: 60.5
To me, Davis is the poster boy of the "RB Dead Zone." No, I cannot guarantee you that he flops in fantasy this year. As of mid-July we certainly project the volume to be there for him, but he feels even riskier than Gaskin as it pertains to what would happen if his team brought in more competition before Week 1. Are we really going to pass on potential difference makers such as Dak Prescott, Russell Wilson, Odell Beckham, and Chase Claypool in order to take a 28-year-old RB who just broke out a season ago? Studies have been done that show aging RBs who see a mid-career spike in ADP are typically a poor bet, and thus I'll be staying far away from Davis come draft day.
Kareem Hunt (RB – CLE) ADP: 61.9
While Montgomery and Taylor were two 2020 Dead Zone RBs who hit, their seasons were very feast-or-famine. Meantime, Hunt was productive all season long thanks to averaging 14.8 touches per game as the passing-down on an offense built around two RBs. Then there's the outcome where Hunt could erupt in the event of another Nick Chubb injury. This unique floor/ceiling combo actually makes him the perfect Dead Zone RB to target in full PPR formats. Additionally, the opportunity cost in drafting Hunt is far cheaper than any of the aforementioned players.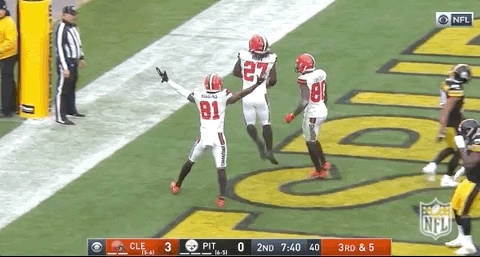 Conclusion
The above blurbs on each player hopefully offer some context as to how these RBs might fail us in 2021. I have my favorites within the group and I certainly know a few RBs who I don't want in this range of the draft. But I can't definitively say who will be worth his ADP and who won't be.
I've shared my takes and tried to discussed ceiling/floor as best as I could, but remember the No. 1 takeaway from the "RB Dead Zone" — we don't want to be overly reliant on this group as a whole. Fading the Dead Zone in favor of premium wide receivers and elite quarterbacks is a more profitable way to play fantasy football, especially as you start playing in more and more leagues. Next week we'll be taking a look at players to select in Rounds 3-6 instead of these backs.

Subscribe: Apple Podcasts | Spotify | Google Podcasts | Stitcher | SoundCloud | iHeartRadio
Beyond our fantasy football content, be sure to check out our award-winning slate of Fantasy Football Tools as you prepare for your draft this season. From our free mock Draft Simulator – which allows you to mock draft against realistic opponents – to our Draft Assistant – that optimizes your picks with expert advice – we've got you covered this fantasy football draft season.
Brendan Tuma is a correspondent at FantasyPros. To read more from Brendan, check out his archive and follow him @toomuchtuma.