Fantasy Football News Roundup: Cam Akers, Darrell Henderson, Chris Carson, D.J. Chark
The best part about the growth of the fantasy sports industry is that player analysis has never been more accessible. In fact, we're at the point where one of the most overlooked aspects of playing fantasy football is simply reading the news. Often, there is a lot to learn from what a coach or executive say, as well as the information that beat reporters share. Using this news to our advantage is one of the few ways fantasy players can create an edge for themselves. Here's a summary of this week's headlines.
Complete early mock drafts using our free draft simulator >>
Making Sense of the Rams' Backfield
The fantasy industry wanted Darrell Henderson to be a "thing" so badly last summer. The offseason reports on Todd Gurley's knee were all over the place, and the Rams had just used the 70th overall pick on Henderson. General manager Les Snead then said the Memphis product "gives the team an Alvin Kamara element." The rookie was soon going in the fifth and sixth rounds of summer best-ball drafts. But then he flopped, receiving just 43 touches all season.
It seemed like Los Angeles was ready to give him another chance after straight-up releasing Gurley this spring, but apparently, the organization wants to use more of a committee backfield moving forward. They took Florida State running back Cam Akers with the 52nd overall pick in this year's draft.
"We feel we've got three really good backs," said coach Sean McVay. "What does that mean in terms of the distribution of carries? I think that's to be determined based on how things play themselves out and when we get a chance to actually compete in practice and in those live opportunities."
The table above shows where each of LA's three RBs slots into our expert consensus rankings. It definitely feels as if Brown will remain involved to a degree, but he doesn't have the fantasy upside of Akers or Henderson. When it comes to situations like this, it often makes sense to draft the cheaper of the two. Despite Henderson's flop last year, it wouldn't be unimaginable to see him lead this backfield in touches by season's end.
Carlos Hyde Signs With the Seahawks
There are a handful of veteran running backs still on the free-agent market ready to come in and steal the fantasy upside of exciting young running backs. Miles Sanders "truthers" know this well. It feels as if we are all just waiting for the inevitable Devonta Freeman or LeSean McCoy signing with the Eagles.
Well, at least Philadelphia didn't land Carlos Hyde. The Seahawks did, even though Hyde is recovering from labrum surgery. It was supposedly an issue he dealt with in the regular season before aggravating the injury in the Texans' divisional-round loss to the Chiefs. While Hyde is likely doubtful for the start of training camp, Seattle expects him to be ready for the season opener.
Fear not, Chris Carson owners. Hyde's signing appears to have more to do with Rashaad Penny (knee) seeming like a good bet for the reserve/PUP list. The Seattle Times reported that the Seahawks "still intend on Carson being their primary running back in 2020." The 2017 seventh-round pick has never been a particularly sexy fantasy selection, though he has ranked 13th in fantasy points per game among running backs in each of the past two seasons. Hyde shouldn't worsen his outlook all that much, so his ECR of RB17 feels right.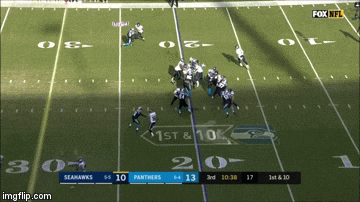 Aaron Jones To Be A Packer For Life?
On Wednesday, Aaron Jones told Rob Demovsky of ESPN that he "would love to be a lifelong Packer." Then his agent told the Green Bay beat writer that he's had conversations with the team about a long-term extension — and that those discussions will continue. It's an encouraging start to the negotiations for the 25-year-old, who is set to become a free agent after the 2020 season.
The most important takeaway for 2020 purposes thus far is that, unlike Joe Mixon, Jones hasn't yet threatened to hold out. As of now, we don't have to worry about his redraft value. On the other hand, dynasty owners have been encouraged to sell Jones all offseason coming off his unsustainable 19-touchdown season.
Yet remaining with the Packers would most likely be a good thing for his long-term value, as coach Matt LaFleur clearly wants to become a Midwest version of the 49ers' potent running game. Then again, the franchise just selected Boston College alum A.J. Dillon in the second round, and they haven't given a second contract to any running back since James Starks, who they drafted in 2010. This is a story to monitor throughout the summer.
Chark In The Slot
Not all news we cover here needs to be earth-shattering. Sometimes it can be enough to simply file away certain nuggets for late use. For example, earlier this week, new Jaguars offensive coordinator Jay Gruden said he plans to feature D.J. Chark "all over the formation, including the slot."
Chark already ran 24% of his routes out of the slot last season, so this probably won't bring any major changes to his usage. However, with a new OC in town, it's certainly encouraging to hear that Gruden wants to continue creating opportunities for his number one wideout. Jacksonville is in desperate need of some more creative play-calling this year. The 23-year-old scored four touchdowns on his 20 slot targets a season ago.
23-year-old DJ Chark went over 1,000 yards and scored 8 TDs on just 118 targets last year

New Jags OC Jay Gruden has already mentioned he plans to continue lining up his number-one WR all over the formation, slot included@FantasyPros ECR is currently WR23 pic.twitter.com/2friu82N9b

— Too Much Tuma (@toomuchtuma) May 27, 2020
A Chicago Quarterback Controversy
Maybe this isn't really a "controversy," but Bears coach Matt Nagy said this week that both Nick Foles and Mitchell Trubisky will play with the starters in the preseason. Trubisky, the second overall pick in the 2017 draft (selected before Patrick Mahomes and Deshaun Watson, yikes), was dreadful last year. The 25-year-old signal-caller regressed considerably from the season prior, which led to Chicago trading a fourth-round pick for Foles this spring.
Bears general manager Ryan Pace said back in April that this is an "open competition" at quarterback between the two. Chicago continues to publicly state this, and they are not simply handing the keys to Foles. Despite this, it remains very likely that the former Super Bowl MVP is the organization's starting quarterback come Week 1.
This would be great news for Allen Robinson, as Foles would instantly become the best quarterback he has ever played with. Aside from Trubisky, other gems that A-Rob has made look good include Matt McGloin, Christian Hackenberg, and Blake Bortles.  The 26-year-old wideout found a way to put up 1,147 yards and seven touchdowns last year. Foles eventually being named the starter would be a great thing for Robinson — and the Chicago offense as a whole.
Complete early mock drafts using our free draft simulator >>

Subscribe: iTunes | Google Play | Spotify | Stitcher | SoundCloud | TuneIn | RSS
Brendan Tuma is a correspondent at FantasyPros. To read more from Brendan, check out his archive and follow him @toomuchtuma.
What's your take? Leave a comment