Fantasy Football News Roundup: Todd Gurley, Miles Sanders, Joe Mixon, Ben Roethlisberger
The best part about the growth of the fantasy sports industry is that player analysis has never been more accessible. In fact, we're at the point where one of the most overlooked aspects of playing fantasy football is simply reading the news. Often times, there is a lot that can be learned from what a coach or executive is telling us, as well as the information beat reporters are sharing. Using this news to our advantage is one of the few ways fantasy players can create an edge for themselves. Here's a summary of this week's headlines.
Complete early mock drafts using our free draft simulator >>
While working on this article Thursday afternoon, I stumbled upon a Todd Gurley headline. Of course, it was in regards to Gurley's aching knees, which have been a problem fantasy-wise over the past year and a half. Falcons offensive coordinator Dirk Koetter actually had this to say about Atlanta's new running back: "The main question, that no one seems to know, is what is his health status?"
It certainly isn't encouraging that even the Falcons are unsure of Gurley's health entering the season. The 25-year-old held up reasonably well in 2019, totaling 254 touches over 15 games. He even scored a whopping 14 touchdowns as the Rams featured him in the red zone. Still, it was clear he lacked the burst he flashed in his breakout 2017 campaign. Los Angeles felt he had fallen off enough that they released him less than two years after signing him to a four-year, $60-million extension.
The Falcons' decision to not take a running back in this year's draft was seen as a major positive for Gurley's fantasy value in 2020, and it still is. However, we can no longer assume that Atlanta didn't take a back because they believe in Gurley's health. Perhaps Ito Smith or Brian Hill is going to mix in more than we think. Gurley still profiles as an RB2 in fantasy due to his touchdown upside in a high-scoring offense. For now, just keep in mind that even his offensive coordinator lacks confidence in his health.
Sanders Remains Miles Away From RB1 Status
One of the veteran "winners" from this year's NFL draft was undoubtedly Miles Sanders of the Eagles. Zach Berman of The Athletic wrote that the second-year back is "entrenched" as the team's number one running back following the draft. The Penn State alum, just 23 years young, sits atop Philadelphia's running back depth chart entering the summer. For the first time since Doug Pederson became head coach in 2016, there is a clear-cut top option to lead his backfield. 
Our expert consensus rankings have Sanders slotted 22nd overall at RB12 here in mid-May. Still, it isn't abnormal to see him get drafted late in the first round of re-draft leagues. That is how much excitement there would be for a back as talented as Sanders to get the majority of touches on this Philadelphia offense. Sanders shined down the stretch in 2019 once Jordan Howard was lost for the season with an injury. Here are his numbers during this time:
| | | | |
| --- | --- | --- | --- |
| Week # | Snap% | Carries | Targets |
| Week 11 | 85%  | 11  | 4  |
| Week 12 | 85% | 12 | 5 |
| Week 13 | 88% | 17 | 5 |
| Week 14 | 57% | 15 | 5 |
| Week 15 | 71% | 19 | 6 |
| Week 16 | 81% | 20 | 6 |
| Week 17* | 31% | 9 | 5 |
| Wild Card | 73% | 14 | 5 |
*Left early with an injury
Unfortunately for Sanders "truthers," NFL Insider Adam Caplan reported this week that Philly is interested in free agent Carlos Hyde. Specifically, Caplan said, "They want to sign a veteran running back." The presence of someone like Hyde, LeSean McCoy, or Devonta Freeman would limit Sanders' ceiling as a three-down workhorse. It wouldn't be a reason to fade him entirely in the early rounds, but we would have to slow the roll on him in the late first. There remains a path to Sanders reaching elite RB1 fantasy status, but we aren't out of the woods just yet.
Say It Ain't So, Joe
Back in mid-April, Paul Dehner of The Athletic wrote that Joe Mixon is "prepared for a holdout" if he and the Bengals can't reach a long-term deal. Then we got another update this week that Bengals director of player personnel Duke Tobin said the team has "visited with" the 23-year-old about a contract extension.
"Joe's obviously a guy that's shown a lot of ability … He's in a year that he can be extended, and he is a guy that we visited with. We'll go through those discussions and see if there is a fit or a match for a long-term contract with him, obviously a guy we value quite a bit. The great thing about Joe is he goes about it the right way … He's the type of guy you want to lock up to a long-term deal," Tobin elaborated.
It's still too early to get concerned about a holdout for fantasy purposes, but this is obviously a situation to monitor. Le'Veon Bell and Melvin Gordon have shown the danger of not taking these holdout threats seriously in recent years. It would truly be a shame if Mixon holds out right as Cincinnati's offense is ready to take the next step. He has been the RB10 and RB13 over the past two years. Now the offense is adding college football legend Joe Burrow and 2019 first-round tackle Jonah Williams. Mixon is the RB7 in our expert consensus rankings at the moment.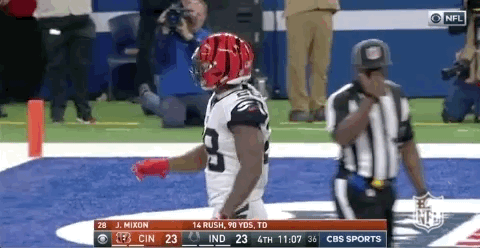 Believing in Big Ben
The Steelers' offense was a disappointment in 2019, but there were valid reasons for it. All three of Ben Roethlisberger, James Conner, and JuJu Smith-Schuster struggled with injuries and ineffectiveness. No injury was more catastrophic than Big Ben blowing out his elbow in Week 2, however. Things got so dire that the team used a two-back wildcat approach in Week 4 against the Bengals. Someone named "Duck" was playing quarterback at one point, which is never where you want to be.
The fantasy value of Pittsburgh's skill players is directly tied to Roethlisberger's health heading into 2020. The good news? Steelers coach Mike Tomlin "fully anticipates" Roethlisberger being ready for the season opener. "As we sit here today, we are extremely confident in his readiness," Tomlin said during the NFL Network's schedule-release show. "We are enjoying the process that he's going through right now. Obviously, it's not without its angst. The guy is coming off a season-ending injury and surgery. But we like where we are. He's throwing on a rehab schedule, and it's going well, and we fully anticipate him being ready to go for that opener."
A quick glance at the FantasyPros ECR (table above) hints that, provided Roethlisberger enters the season healthy, the entire Steelers' offense is a tad undervalued in fantasy right now. Expect their rankings (and thus their average draft positions) to rise as the summer progresses.
Searching For Gold In San Francisco
Figuring out the 49ers' backfield is going to be one of the most important storylines for fantasy players to track this summer. It's no secret that this is a fantasy-friendly running game, highlighted by Raheem Mostert's 220-yard, four-score performance in the NFC Championship game last year. Mostert was a league-winner down the stretch, usurping Tevin Coleman as the lead back and scoring seven touchdowns in his final six regular-season games.
The organization entered the off-season with four viable running backs on its roster, but it at least cleared things up a bit by sending Matt Breida to the Dolphins during the NFL draft. This leaves Mostert, Coleman, and the forgotten Jerick McKinnon as the names to know in this backfield.
McKinnon is the guy to monitor the news about moving forward. The 28-year-old signed a four-year, $30 million deal with San Francisco on the first day of free agency back in 2018. However, a torn ACL combined with a failed rehab has derailed the optimism surrounding his signing. McKinnon agreed to a pay reduction in 2020, which means the 49ers are no longer financially tied to him.
Although McKinnon isn't yet cutting on his surgically repaired knee, the 49ers are "cautiously optimistic" he will have a big role in 2020. It is far too early in the summer to know what his role and health could look like this year, so we can only view him as a late-round lottery ticket right now. Meanwhile, Mostert is going ranked as the RB24 (according to FantasyPros ECR). Coleman checks in at RB41. In committees like this, it is often wise to take the cheaper of the two come draft day.
Complete early mock drafts using our free draft simulator >>

Subscribe: iTunes | Google Play | Spotify | Stitcher | SoundCloud | TuneIn | RSS
Brendan Tuma is a correspondent at FantasyPros. To read more from Brendan, check out his archive and follow him @toomuchtuma.
What's your take? Leave a comment