6 Targets For Zero RB Drafters (2020 Fantasy Football)
Beyond our fantasy football content, be sure to check out our award-winning slate of Fantasy Football Tools as you prepare for your draft this season. From our free mock Draft Simulator – which allows you to mock draft against realistic opponents – to our Draft Assistant – that optimizes your picks with expert advice – we've got you covered this fantasy football draft season.
Back in 2013, Shawn Siegle of Rotoviz wrote his famous article introducing the world to "Zero RB." Originally considered a wildly contrarian game plan, the strategy has moved more and more into mainstream fantasy analysis in recent years. If you're new to the philosophy or just need a refresher then the idea is basically what it sounds like – don't take RBs early in your draft.
This seems counter-intuitive at first. Excluding Superflex leagues, running back is the most important position in fantasy football right? Typically, yes, which is why so many are taken in the early rounds of drafts. This is also exactly why you might want to consider implementing a zero RB approach in 2020. As of this writing, 13 of the top 22 ranked players in our Expert Consensus Rankings (ECR) are running backs.
There are two reasons to consider going Zero RB. The first is that high-usage backs get injured at a higher rate than elite receivers do. In fact, back in 2016 Josh Hermsmeyer found that running backs drafted in Rounds 1-5  are 200-360 percent (!!!!) more likely to suffer a serious injury than a similar wideout. Additionally, we aren't as smart as projecting season-long workloads for running backs as we would like to think. That is because the fantasy success of a running back depends on factors that are often out of the player's control, such as whether or not he will be the team's goal-line back or if he'll be on the field for passing downs.
I could go on longer but there are plenty of articles and podcasts around the internet if you are interested in learning more about the approach. Below are six names that I find appealing when using this strategy. If you'd like to try a zero RB fantasy draft then I strongly urge you to consider the following players.
Kareem Hunt (RB – CLE)
Hunt has both the highest floor as well as the most upside on this list. Of course, he is also the priciest option I name. Let's start with discussing Hunt's floor. In eight games with the Browns last year the 24-year-old caught 37-of-44 targets and scored three total touchdowns. It all worked out to 12.7 PPR points per game. In PPR leagues especially, Hunt has the floor of a high-end RB3.
Now let's talk about his ceiling. Perhaps Hunt becomes even more involved in the passing game this season. This seems particularly feasible following reports that the 2017 third-round pick has "been involved" in some of the Browns' virtual passing meetings this offseason. We could wind up seeing Hunt function as Cleveland's third receiver after Odell Beckham and Jarvis Landry.
Lastly, what if something happens to Nick Chubb? Hunt would be in position to take on a workhorse RB role, a situation in which he has shined in before. In 27 games with the Chiefs in 2017-18, Hunt averaged a whopping 19.5 PPR points per game. He would be a league-winning fantasy asset should Chubb miss time with an injury. What makes him the perfect zero RB pick is combining that upside with an already usable floor.
Damien Williams (RB – KC)
The allure of drafting the starting running back of the Chiefs has been tantalizing for years now, ever since Hunt exploded onto the scene. This caused Williams to be over-drafted early on in the summer of 2019. In hindsight he was the exact type of player we try to avoid by going zero RB. Williams' value took a massive hit when the Chiefs signed LeSean McCoy after final cuts. That type of value plunge would never happen to an early-round receiver. (*Whispering* Remember, an RB's fantasy success is sometimes out of the player's control).
One year later and the script has flipped. Clyde Edwards-Helaire is the shiny new toy in Kansas City's backfield and is being drafted in the first three rounds. Meanwhile, Williams has an ECR of RB35, which is quite appealing. The case for Williams isn't necessarily relying on an injury to CEH. Instead, what makes him a Zero RB candidate is the idea that are projections might not be accurate.
Based on their respective ADPs we are assuming that Edwards-Helaire is locked in as the team's every down back. As a rookie coming into the league without a normal offseason, however, that might not be the case. Williams was on a heater down the stretch last year and totaled 133 yards and two TDs in the Super Bowl. He should begin the season with at least a 50/50 split of the touches. If the Chiefs take their time working in CEH then Williams could be a usable asset for the first half of the 2020 season at least.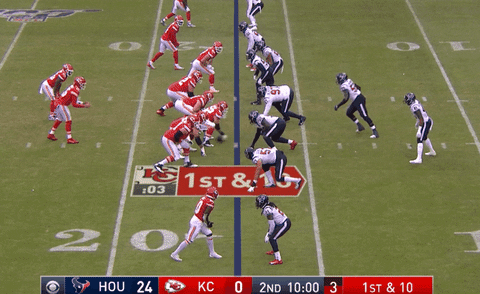 Tevin Coleman (RB – SF)
The easiest (and best) analysis you can give when discussing running-back-by-committees (RBBC) is to draft the cheapest option. Again, this plays into the notion that our preseason running back projections aren't as accurate as we would like to believe. What we do know is that San Francisco wants to run the ball. Presently, Raheem Mostert checks in at RB26 in our ECR while Coleman is a screaming value at RB43.
Recency bias is the simplest case to make against Mostert. The 28-year-old UDFA was a league-winner down the stretch last year, scoring seven times in the 49ers' final six regular season games. This makes us want to like Mostert. Then came the NFC Championship where the fan-favorite erupted for 220 rushing yards and four scores.
Mostert could very well lead Kyle Shanahan's zone-blocking scheme in carries this Fall but it would be a surprise if he was the unquestioned bell cow. The 49ers used three running backs last year so it isn't as if Coleman is simply going away.
Darrell Henderson (RB – LAR)
The Rams shocked us this spring by straight up releasing 2017 MVP candidate Todd Gurley. There was a brief moment where it looked as if Henderson, the 70th overall pick in the 2019 draft, would become a featured guy. Then Los Angeles, despite a plethora of other needs, drafted Florida State's Cam Akers with their first selection this year.
Just like with Damien Williams we have a rookie back already being penciled in as the perceived starter and just like with Tevin Coleman we want to draft the cheaper option. The Rams have made it clear they want to use all three of their RBs (including Malcolm Brown) this season.
Henderson famously didn't fit LA's system in his rookie campaign but still flashed big play upside. Currently, the market is viewing Akers as the unquestioned starter. That is an assumption I'm willing to short, particularly with what the Rams are telling us and without Akers getting many offseason reps.
| | | |
| --- | --- | --- |
| Player | ECR among RBs | Overall ECR |
| Cam Akers | RB29 | 70 |
| Darrell Henderson | RB45 | 129 |
| Malcolm Brown | RB65 | 229 |

Zack Moss (RB – BUF)
Moss presents a different case than the named listed above. While we primarily want to focus our Zero RB efforts on pass catchers in ambiguous backfields, Moss' calling card is going to be scoring touchdowns. The most high profile example of this working out came back in 2016. That year, Patriots RB LeGarrette Blount found the end zone a whopping 18 times en route to a dream season for Zero RB drafters.
Does Moss need to score 18 touchdowns to pay off? Of course not. Is Devin Singletary going to receive the majority of carries between the 20s in this offense? Likely. However, it needs to be noted that Singletary saw just three carries inside the 10-yard line last year. Three! Meanwhile, Franke Gore (now with the Jets) received a whopping 18 rush attempts inside the 10. Those moneymaking carries should now go to Moss.
#Bills 2019 carries inside the 10-yard line

Frank Gore – 18
Devin Singletary – 3

Gore is now with the Jets and Zack Moss has an ECR of RB48 over at @FantasyPros pic.twitter.com/sa8HQvzyHu

— Brendan Tuma (@toomuchtuma) June 23, 2020
Damien Harris (RB – NE)
The logic of drafting the cheapest option in a RBBC has applied to the Patriots backfield over the past half-decade. Taking this approach blindly would have led fantasy players to the career years of Blount (2016), Dion Lewis (2017), and James White (2018). Perhaps we can strike gold again with Damien Harris, who New England surprisingly took in the third round of the 2019 draft.
Harris actually received some buzz last off-season as incumbent starter Sony Michel underwent a summer knee scope operation. This news, combined with the selection of Harris in the draft, led us to surmise that the Patriots were worried about Michel. Perhaps they were, but Michel still wound up playing in all 16 games while Harris received four carries all season.
History appears to be repeating itself as Michel recently had foot surgery. It's important to note that this was deemed "maintenance-based" and if anything it could help relieve the 25-year-old's health issues. Still, it means he is in the middle of a rehab, and the former Georgia product hasn't exactly flashed in the NFL. Harris is more of a long-shot payoff than anyone else I've mentioned, but he's worth a gamble at RB67 right now.
Conclusion
Zero RB isn't for everyone. There are certain league structures where the strategy will work better than others. Without getting too into it the best situations to try this out would be in a PPR format, particularly if your settings include a third WR spot in your lineup.
I also want to quickly mention that if you get the number-one pick in your draft, you're still taking Christian McCaffrey. The same is true if you have the second pick. Take Saquon Barkley. So where is the cutoff? For me, it's after the Big 5 of CMC, Barkley, Ezekiel Elliott, Alvin Kamara, and Dalvin Cook. After that I'd be comfortable taking Michael Thomas or Davante Adams with my first-round pick. If you wind up with one of the Big 5 then you can still take a "modified Zero RB" approach and load up on receivers from Round 2 on.
Finally, if you have any further questions or comments and want to discuss on Twitter, I can be reached @toomuchtuma.
Complete early mock drafts using our free draft simulator >>

Subscribe: Apple Podcasts | Spotify | Google Podcasts | Stitcher | SoundCloud | iHeartRadio
Brendan Tuma is a correspondent at FantasyPros. To read more from Brendan, check out his archive and follow him @toomuchtuma.