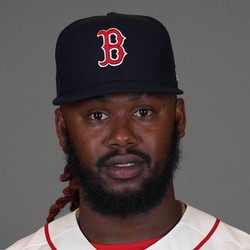 Hanley Ramirez
1B - BOS
Height: 6' 2"Weight: 225 lbsAge: 34Bats: RThrows: RCountry: Dominican Republic
Hanley Ramirez hits three-run homer in spring game on Thursday
Hanley Ramirez went 2-for-3 with five RBI and a three-run in Thursday's game against Tampa Bay.
Fantasy Impact
This was a positive performance for Ramirez who is dealing with shoulder issues. The injury is preventing Ramirez from participating in the World Baseball Classic but he is still able to swing the bat. Ramirez has a history of being injury prone but was able to play 147 games last year. He goes into the year splitting time at first base and DH so this should help keep him healthy and hopefully came have a similar season in 2017.
Hanley Ramirez may miss WBC due to sore shoulder
Hanley Ramirez went 0-for-2 with a walk as Boston's designated hitter Tuesday against the Yankees. Ramirez told reporters Monday that he's dealing with a sore shoulder that might prevent him from participating in the World Baseball Classic, so his presence in the lineup Tuesday was an encouraging sign.
Fantasy Impact
Ramirez is coming off a great season in 2016 in which he batted .286 with 30 HRs and 111 RBI. He was also able to play 147 games which were the most he played in a season in five years. Expect the Red Sox to be cautious with the first baseman as they need Ramirez healthy and in the middle of the lineup this year.
Hanley Ramirez to DH against right-handed pitchers
Red Sox manager John Farrell said that Hanley Ramirez will be the designated hitter "against every right-handed pitcher," Brian MacPherson of the Providence Journal reports.
Fantasy Impact
It is assumed that Ramirez will be playing first base when lefties are facing the Red Sox. The move to DH helps to keep the veteran healthy as Ramirez has been known to dinged up throughout the year. This should help to increase his value.
Hanley Ramirez may move to DH in 2017
Hanley Ramirez could still play some first base this coming season as part of a platoon with the newly acquired Mitch Moreland, Brian MacPherson of the Providence Journal reports.
Fantasy Impact
The Red Sox will need to replace David Ortiz at DH going into 2017. It would make sense to move Ramirez to that spot. He is injury prone and the move to just hitting may preserve him and could help increase his batting numbers. Moreland is a Gold Glove winner and it would be smart to have him in the field.
Hanley Ramirez reaches base once
Hanley Ramirez finished 0-for-3 with a walk and two strikeouts on Friday night. Ramirez is 2-for-17 with an RBI over the last seven days. He has an .861 OPS this season.
Fantasy Impact
Ramirez has been hitless in four consecutive games, but has walked in three consecutive games and has three multi-hit games in his last 10 games. He finished September with a .313 batting average, two doubles, 10 home runs, 14 runs scored, and 26 RBI.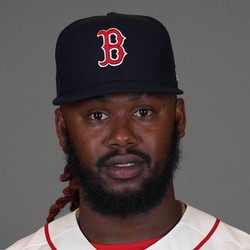 Availability
---