Fantasy Football News Roundup: Dak Prescott, Antonio Brown, Odell Beckham, Ezekiel Elliott
Beyond our fantasy football content, be sure to check out our award-winning slate of Fantasy Football Tools as you navigate your season. From our Trade Analyzer – which allows you to instantly find out if a trade offer benefits you or your opponent – to our Waiver Wire Assistant – that allows you to quickly see which available players will improve your team, and by how much – we've got you covered this fantasy football season.
The best part about the growth of the fantasy sports industry is that player analysis has never been more accessible. In fact, we're at the point where one of the most overlooked aspects of playing fantasy football is simply reading the news. Often, there is a lot to learn from what a coach or executive say, as well as the information that beat reporters share. Using this news to our advantage is one of the few ways fantasy players can create an edge for themselves. Here's a summary of this week's headlines.
Complete early mock drafts using our free draft simulator >>
Coming off a career year in 2019, Cowboys quarterback Dak Prescott signed his franchise tender this week, which pays him $31.4 million during the upcoming season. This means that he's under contract for 2020 and will show up on time for training camp, cementing his status as a top-five quarterback in fantasy drafts this summer.
What elevated Prescott to becoming the overall QB2 in fantasy last season was playing in an up-tempo offense, which will likely remain intact for 2020.
Periodic reminder the traditionally slow-paced #Cowboys were one of the league's fastest offenses last year, and should be a rocket ship this season.

(and Mike McCarthy's Packers ranked 6th, 3rd, 3rd, 7th, and 9th in no-huddle rate his last five years there) https://t.co/AwoyldahCg

— Pat Thorman (@Pat_Thorman) June 24, 2020
Dak signing his tender means that we can breathe a sigh of relief for now. He and the Cowboys are still trying to work out a long-term extension. While Dallas wants the 2016 fourth-round pick to sign for five years, Prescott reportedly only wants to commit to four. Things become increasingly complex due to the unknown future of the salary cap amid the COVID-19 pandemic. The two sides have until July 15th to come to an agreement before talks are tabled until next offseason.
It's incredible to think that in 2018, Antonio Brown caught over 100 passes for nearly 1,300 yards and 15 touchdowns. The former All-World wideout was still very much in his prime when off-the-field issues completely derailed his career. He wound up playing one game with the Patriots last year, was let go, and continues to be involved in rumors regarding a potential signing ever since.
The latest news we have on Brown came this week, as Mike Silver of NFL Network reported that the Seahawks and Ravens had discussed him internally. Silver's colleague Mike Garafolo added that whether it's Josh Gordon or Brown himself, "there's a strong sense the Seahawks will eventually take a chance to upgrade at receiver." Josina Anderson of ESPN then added the Ravens aren't actually a possible destination for him, which further limits any market Brown might have.
The former Steeler/Bill/Raider/Patriot is still facing league discipline for a January battery incident outside his Florida home, and Silver notes his suspension is likely to be eight games. There is little risk in selecting the 31-year-old in the very late round of best ball drafts, but fantasy players should consider it a surprise if he ever sets foot on an NFL field again.
Fielding reliable pass-catchers has been a struggle for the Philadelphia Eagles over the past couple of seasons. After whiffing badly on 2019 second-rounder J.J. Arcega-Whiteside, the team drafted TCU's Jalen Reagor with the 21st overall pick this spring. While JJAW should serve as a reminder that we shouldn't get too excited about rookies before they perform, it's tantalizing to envision the success Reagor could have as early as 2020.
Then we get a prediction from SiriusXM's Adam Caplan, who was a Philadelphia beat reporter for years. "I'll make a prediction — Jalen Reagor will not only lead the Eagles receivers in receptions, but also in snaps." It's important to note that this is just the opinion of an outside observer right now. However, the closer look we take at the team's depth chart, the more realistic this scenario seems. 
DeSean Jackson is a low-volume deep threat, Alshon Jeffery (Lisfranc) is without a timetable to return, and the rest of the receiving corps are all unproven. It's unclear if Reagor is going to command the type of volume that would be required to lead this group in snaps and receptions, but what he will certainly be given a chance to. Astonishingly, Reagor sits at WR61 in our expert consensus rankings, which is far too low for a talented player with so much potential opportunity.
Buying Low on Beckham
Expectations were high for Odell Beckham Jr. in his first season with the Browns last year. A first-round pick entering 2019, the 27-year-old finished a wildly disappointing 38th among wide receivers in PPR points per game. A disastrous coaching performance by Freddie Kitchens is mostly to blame, and Beckham also dealt with a core muscle injury that certainly affected him.
The good news is Beckham underwent successful surgery for the injury back in January. By early May, he was posting videos showcasing a full-body workout, and earlier this week coach Kevin Stefanski said he is now "100 percent" following the procedure.
OBJ simply didn't pass the eye test in terms of burst and explosion last year. Buying back in on Beckham means you are betting on a return to health. Additionally, having Stefanski around should only help. The former Vikings' offensive coordinator is expected to use his best weapon similarly to how he utilized Stefon Diggs last year.
Coming soon to Odell Beckham's outlook https://t.co/pBKiM3indO

— Sigmund Bloom (@SigmundBloom) June 24, 2020
Zeke Ready To Be Fed Again
As I mentioned in this column last week, it's going to be a while before we are able to give fantasy analysis as it pertains to players testing positive for COVID-19. It was reported last week that Ezekiel Elliot had contracted the virus, which led to a discussion on what it means for his fantasy value. Should Elliott be considered a 'safer' pick since he likely won't test positive again? Or should this increase his risk if it means he could be dealing with symptoms for…who knows how long?
What we do know is that Zeke says he is feeling better already.
"I would say I had maybe one or two days when I felt symptoms," he said on Wednesday. "Even then, it wasn't too bad. I had a cough and a little bit of shortness of breath. Now, I feel good. I feel normal."
Elliott was initially diagnosed as asymptomatic, and he appears to be doing alright. A top-five fantasy pick in almost every format, it doesn't make sense to move him up or down your rankings based on this news right now. There will, however, be more players testing positive for the virus moving forward. Until we learn more about what that means, we should all do our best not to overreact.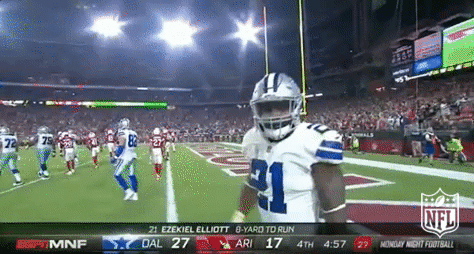 Complete early mock drafts using our free draft simulator >>

Subscribe: Apple Podcasts | Spotify | Google Podcasts | Stitcher | SoundCloud | iHeartRadio
Brendan Tuma is a correspondent at FantasyPros. To read more from Brendan, check out his archive and follow him @toomuchtuma.