Zak Hanshew's 2021 NBA Mock Draft 2.0
Another month older, and hopefully another month wiser. I put out my first NBA Mock Draft shortly after the NCAA Tournament concluded, but now I've had some time to marinate on the prospects, think about where they would be a good fit, and do some additional research on the stocks of this year's best players. The draft order has changed since the last mock, but that will be the case until the Draft Lottery officially solidifies the order on June 22. This most recent mock takes into account the current draft order, risers and fallers, and team fit.
Draft Order: Tankathon (as of 5/14/21)
Create FanDuel lineups using our DFS Lineup Optimizer tool >>
1. Houston Rockets: Cade Cunningham (G – Oklahoma)
After what can be called a "rocky" season at best, Houston lands the best prospect in this year's draft in Cunningham. The team is in complete rebuild mode following the departure of James Harden, and Cunningham will be a prime addition to a team of scrappy young talents in Kevin Porter, Jae'Sean Tate, Christian Wood, and KJ Martin. This team lacks scoring and playmakers, but that will change with the addition of Cunningham.
---
2. Detroit Pistons: Evan Mobley (C – USC)
Mobley is cut from the same unicorn cloth as Kristaps Porzingis – a tall, lanky big who can play forward or center, step outside the paint to make a shot, get to the basket, rebound, and block shots with authority. Mobley has no problem putting the ball on the deck and making a play for himself, and his rare combination of size, mobility, and two-way play makes him the clear No. 2 selection here. The Pistons drafted their point guard of the future in Killian Hayes last year, so Jalen Suggs doesn't make sense here. Mason Plumlee is not the long-term future of Detroit, so the Pistons upgrade the frontcourt and get a cornerstone center here.
---
3. Oklahoma City Thunder: Jalen Suggs (G – Gonzaga)
In a class full of athletic players, Suggs stands out. Although Gonzaga couldn't complete its undefeated season, Suggs' Final Four buzzer-beating heave to send the Zags to the championship cemented his status as a top-three pick in this draft. After a standout season, Suggs went for 18.7 points, 5.7 assists, 5.3 boards, and 1.3 steals over his final three games. Theo Maledon has played solid basketball thus far, but Suggs is a notable addition to this frontcourt that should have Shai Gilgeous-Alexander back to full health next season.
---
4. Orlando Magic: Jalen Green (G – G League Ignite)
Orlando will be thrilled to get Green at No. 4. The G-League star is a shot-maker extraordinaire with outstanding athleticism and explosiveness. As Orlando begins its rebuild in earnest in 2021, the team will be in desperate need of playmakers who can put the ball in the hoop, and the Magic would be hard-pressed to find a better fit than Green.
---
5. Golden State Warriors (from Minnesota): Jonathan Kuminga (F – G League Ignite)
Kuminga's size (6'7, 217) and length (6'11 wingspan) make him an imposing defender and a player who's tough to defend on offense. He's strong, athletic, and explosive, with the ability to make big plays at the rim. His shooting is a big concern (39/63/25), but the raw talent and upside paired with his immediate contributions on defense should keep him in the top-5 conversation. The fit with Golden State makes sense, as he could learn from Draymond Green, a rough shooter but elite defender himself.
---
6. Cleveland Cavaliers: Scottie Barnes (F – Florida St)
Barnes will head to Cleveland, where he'll look to contribute right away on the defensive end of the floor. He's got an impressive 7'0 wingspan, consistently looks to get to the basket, is extremely physical, and doesn't shy away from contact. With a thick frame at 6'9, 225, Barnes gets down the court with a head of steam and is difficult to stop in fast-break situations. He's solid on offense, but he can be a quality defender. Pairing him with Isaac Okoro could instantly boost Cleveland's typically lackluster defense.
---
7. Toronto Raptors: Moses Moody (G – Arkansas)
Moody's got great size for a two-guard and flashes athleticism and strength. He's a worthy scorer who's great on catch-and-shoot opportunities but also able to drive to the rim and finish in traffic. Moody is the type of tough, blue-collar, two-way player the Raptors typically hang their hat on, so this selection seems like a perfect fit. He'll add some tenacity and grit alongside the likes of OG Anunoby, Fred VanVleet, and Pascal Siakam.
---
8. Orlando Magic (from Chicago): Keon Johnson (G/F – Tennessee)
The Magic go for another high-upside pick at No. 8, though Johnson may not be a guy who will immediately contribute. He's extremely athletic but relies too much on his short mid-range jumper, runner, and floater, making his shot selection a bit predictable for opposing defenders. Orlando is in full rebuild mode, and they'll be looking for ceiling with this pick, making Johnson the guy. Expect some highlight plays as a rookie, but Johnson will need time to develop.
---
9. New Orleans Pelicans: Davion Mitchell (G – Baylor)
Mitchell is shooting up draft boards, and it's tough to imagine the Pelicans passing on him with this pick after his strong play in the NCAA Tournament. Throughout the season, Mitchell played excellent two-way ball for a stout Baylor defense that eventually held Gonzaga's juggernaut to just 70 points in the championship game. He's a guy who can shoot the three, get teammates involved, and make some contributions on offense in the process. New Orleans could be without Lonzo Ball next season, so an addition to the frontcourt – particularly one who can play elite defense – is a sound move.
---
10. Sacramento Kings: Jalen Johnson (F – Duke)
Though Johnson opted out for most of his first and only season with Duke, his limited sample size was enough to keep him in the lottery. He's got the skill set to be a quality two-way player at the next level as a willing and efficient defender with the ability to pass effectively. He's most effective in transition where he's a nightmare to stop. Sacramento's frontcourt could experience a shakeup this offseason, and Johnson could fit in as something Marvin Bagley never was – a good defender.
---
11. Washington Wizards: Franz Wagner (F – Michigan)
Despite a lackluster effort in the NCAA Tournament, Wagner remains a lottery selection thanks to a skill set that's very translatable to the NBA. He's got a high basketball IQ, can play and defend both forward positions, and can knock down the three-ball at a respectable clip. Washington's got a loaded backcourt and promising centers in Thomas Bryant and Daniel Gafford, but the team could use help at forward. Wagner is the pick here.
---
12. San Antonio Spurs: Josh Giddey (G – Adelaide)
The Australian has continued to rise up draft boards in recent weeks thanks to excellent passing, solid rebounding, and improved scoring. He can do a bit of everything, and that's evident by his recent stretch of games. Giddey has provided a triple-double in three of his last four games and averaged 12.6 points, 9.8 dimes, and 8.3 boards across his last six. The Spurs will certainly be interested in a player of his caliber to bolster a backcourt that already includes Dejounte Murray and Derrick White.
---
13. Indiana Pacers: James Bouknight (G – UConn)
Bouknight is a score-first two-guard who can get to the rim at will and finish strong. He's a great rebounder for his size and took big steps forward last season with the Huskies. Indiana could use some additional scoring, and Bouknight fits in well alongside another young scorer in Caris LeVert.
---
14. Memphis Grizzlies: Corey Kispert (F – Gonzaga)
Kispert could be the best shooter in this year's draft. His three-point percentage has increased in each of the last three seasons, and he's drained better than 43% of his long-range attempts in each of his final two seasons with the Zags. He's a two-time All-WCC selection who averaged nearly 20 points per game last season. His deadly marksmanship will be a perfect fit for the Grizzlies, who rank 23rd in three-pointers made this season.
---
15. Charlotte Hornets: Isaiah Jackson (PF/C – Kentucky)
Cody Zeller and Bismack Biyombo? Yeah, you could say the Hornets need an upgrade at center. The rest of the team looks to have few holes with LaMelo Ball, Terry Rozier, and PJ Washington anchoring a promising young core. Charlotte's Achilles heel is the center position, and the Hornets will be thrilled when they land Jackson. Jackson can provide some quality defense, as he averaged 3.4 combined blocks/steals in his lone season at Kentucky. He isn't a gifted scorer, but his elite speed and athleticism paired with rim-protecting abilities should make him an attractive pick for a Charlotte team looking to take the next step forward in Ball's second season.
---
16. Boston Celtics: Usman Garuba (F/C – Real Madrid)
The teenager from Real Madrid is a little undersized to play center, but that hasn't stopped him from making a huge impact in the paint. Boston needs some depth at center for the upcoming season and beyond, and Garuba's ceiling is sky-high. Robert Williams has been big for the C's this season, but the depth behind him is thin at best. Both Williams and Tristan Thompson are entering the final year of their contracts, and taking a high-upside big at 16 makes the most sense for Boston.
---
17. Golden State Warriors: Kai Jones (C – Texas)
Jones is freakishly athletic with insane hops, and while he'll need to bulk up and work on his shooting, he profiles as a stretch five with speed, burst, and explosiveness. Golden State's frontcourt has long been the team's soft spot, so selecting Jones here is a logical choice. Even though he'll play behind James Wiseman, Jones is a big upgrade over Kevon Looney for Golden State's second unit.
---
18. New York Knicks: Ziaire Williams (G/F – Stanford)
Williams has noticeable length (6'11 wingspan), and he's an excellent rebounder on offense and defense. He's able to facilitate effectively and is a solid knock-down shooter. He needs to work on creating his own shot, as his strengths are in catch-and-shoot and second-chance opportunities. Still, his combination of size, defense, and passing abilities make him a very interesting prospect for New York.
---
19. Oklahoma City (from Miami): Jaden Springer (G – Tennessee)
The Thunder are thrilled with this selection, as Springer falls into their laps at No. 19. The counting stats won't blow you away, but the eye test should. Springer's movements are fluid, he's an able shot creator and a true threat from downtown. His natural scoring ability is top-notch, and while he falls outside the top-14 here, he's a lottery talent with the ability to play well on both ends of the court.
---
20. Atlanta Hawks: Jared Butler (G – Baylor)
Atlanta adds the Final Four's Most Outstanding Player to a roster in need of some defensive help. Butler does a lot of things well, but his biggest strengths are defense, passing, and shooting threes. In Butler, this young Hawks team gets an experienced player with a championship pedigree.
---
21. Los Angeles Lakers: Sharife Cooper (G – Auburn)
Cooper isn't the most athletic guard in this draft, but he won't be relied on for athleticism with the Lakers. Cooper's strengths come from his ability to draw contact and finish creatively in the paint, but most importantly, he operates as a pure point guard who looks to get his teammates involved early and often. Cooper averaged 8.1 dimes with Auburn this season, and that passing ability would be welcomed by a Lakers squad that might lose Dennis Schroder in the offseason.
---
22. Houston Rockets (from Portland): Tre Mann (G – Florida)
In need of even more offense, Mann fits the bill as the Rockets' pick here. The Florida guard is an elite shot creator, who excels in creating space for himself and shooting off the dribble. He hustles for rebounds and can find teammates for easy buckets, but his strength is in his natural scoring abilities. Over the final eight games of his NCAA career, he averaged 20 points per game.
---
23. New York Knicks (from Dallas): Isaiah Jackson (F/C – Kentucky)
Mitchell Robinson hasn't been able to stay healthy since joining the Knicks, and despite his tremendous per-minute upside as a shot-blocker, his availability has been a concern. Sengun can provide some depth in the frontcourt, and while he's a bit undersized for a center, his skill set and raw upside are tough to ignore, especially given his recent play in the Turkish League. He can also clog up the lane, grab a rebound, and put the ball in the basket with efficient post moves. He also has a lot more range than Robinson or Nerlens Noel.
---
24. Houston Rockets (from Milwaukee): Cameron Thomas (G – LSU)
Thomas averaged 23.0 points per game as a Freshman at LSU, leading the SEC and all Freshmen in scoring and finishing fourth in the nation in that category. With two high-upside scorers already secured, Houston adds one more to solidify a draft that should give the offense a much-needed shot in the arm. The Rockets are 27th in Offensive Rating this season, and the team needs to put more points on the board. Thomas is the pick to go with Tre Mann and Cade Cunningham.
---
25. Denver Nuggets: Miles McBride (G – West Virginia)
"Deuce" McBride lands with the Nuggets after a strong Sophomore season at West Virginia. In his final season with the Mountaineers, he made a name for himself as a capable scorer, strong defender, and proven leader. As a fellow WVU alum, there's no bias from me here. McBride is a legitimate first-round talent, and I think he slides in at No. 25.
---
26. Brooklyn Nets: Charles Bassey (F/C – Western Kentucky)
Bassey has finally declared for the draft, and he'll make a fine addition to an elite Nets team that's lacking a true big man. Bassey has a big frame, clogs up the paint, and profiles as a shot-blocker extraordinaire. He's an elite rebounder who can finish strong at the rim on offense. Though not an impressive post scorer and lacking an outside game, he can do some serious damage as a rebounder and shot-blocker. LaMarcus Aldridge has retired and Blake Griffin is a placeholder at this point in his career, while Nicolas Claxton is more of a power forward than a true center. Add Bassey to this team that already sports a Big Three of James Harden, Kyrie Irving, and Kevin Durant, and the Nets could be even more formidable.
---
27. Philadelphia 76ers: Chris Duarte (G – Oregon)
Duarte's rise to the first round of the NBA Draft is the remarkable story of a guy who played two years at Junior College before transferring to Oregon and excelling at the highest level of college hoops. He averaged 17.1 points per game in his final season with the ducks, showing off his sharp-shooting abilities (42.4% from deep) in the process. Philly already boasts an elite roster, led by Ben Simmons, Tobias Harris, and Joel Embiid, but Simmons isn't a natural scorer or shooter, and Harris and Embiid can't continue to carry such a heavy load if this team wants to enjoy sustained success. That's where Duarte comes in.
28. Los Angeles Clippers: Josh Christopher (G – Arizona State)
Christopher, while still a raw shooter, will bring a ton of energy to the Clippers on both ends of the floor. He's got a high motor and hustles on defense, which should make him a good fit, and he could benefit from the mentorship of experienced players such as Paul George and Kawhi Leonard (if he returns).
---
29. Phoenix Suns: Greg Brown (F – Texas)
Brown is an explosive athlete with a long reach (6'10 wingspan). He's a willing defender, solid rebounder, and electric finisher at the rim with a reel of highlight dunks to his credit. Brown will be a pleasant upgrade from Dario Saric and Frank Kaminsky, and he should be able to inject some excitement into this frontcourt.
---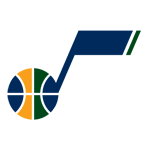 30. Utah Jazz: Ayo Dosunmu (G – Illinois)
Dosunmu is a great get for the Jazz at the end of the first round. He led Illinois to a 23-6 record and a No. 2 ranking before the NCAA Tournament, and he offers unique size (6'5) and scoring ability (20.1 PPG in 2020-21) for a point guard. Adding him to a backcourt of Mike Conley, Donovan Mitchell, and Jordan Clarkson gives Utah tremendous depth.
Create FanDuel lineups using our DFS Lineup Optimizer tool >>
Beyond our daily fantasy basketball content, be sure to check out our Daily Fantasy Basketball Tools. From our Lineup Optimizer – which allows you to build winning DFS lineups in seconds for Cash and GPP contests – to our DFS Cheat Sheets – that helps you get a quick read on the day's players – we've got you covered this fantasy basketball season.
Zachary Hanshew is a featured writer at FantasyPros. For more from Zachary, check out his archive and follow him @zakthemonster.